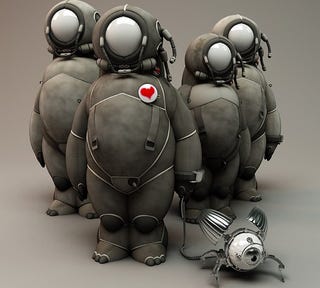 Olivier Bucheron aka Zamak has a delightful imagination for marshmallowy aliens and puffy robots of the future. His creature have lanky arms and adorable little faces, and some are so cute you know they just have to be deadly. Check out the full gallery of his creations, including a robo-gorilla.
Bucheron creates these beings using Cinema 4D, Vray, and Photoshop, from his French workshop. His website is constantly being filled with new creatures. Although most of his work looks like a model, they are all 2D designs. But he's currently thinking about creating some 3D lifeforms. In an interview with Newtown, Bucheron explained his scifi influences:
Everywhere, any details. It's always hard to know why something pops up in your mind. Sci-fi cinema and fantasy in general [are an influence on me]. I'm not a big fan of manga, but I keep having a look at it, Ghost in the Shell, Dragon Ball Z, others. Also, the Internet and [the] artist portfolios [of] Michael Kutsche, Ashley Wood, Daniel Simon, 1st Ave Machine, and Michelin's [mascot].
[Newton]