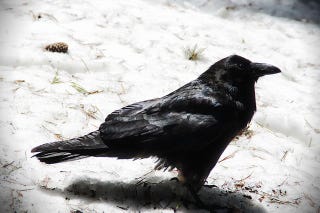 Whether they were focusing on a cybernetic raven with a sardonic side, a Grim Reaper who just wants to figure out how to retire already, or a search engine out for revenge, your flash fiction stories took us into some dark (yet surprisingly fun!) worlds.
Pulled from your submissions to our six-word science fiction call, here are a dozen of our favorites. Read them all and then call out your own favorites in the comments — or submit your own right here.
Google had learned everything...except mercy

"Beep," said the raven mournfully. "Nevermore."

Unfortunately, we were right about Europa.

"All intelligence is artificial, flesh creature."

"Tag, you're it!" Death said, retiring.

Chronox malfunctioning: time copies are fuzzy.

Elevators fold space, actually, fooling everyone.

travel can be very disorienting. Time

"I object!" "Overruled." The Earth vanished.

The pandas are aware. Tell others.

Sale: 40% off Sol system planets

This morning Wikipedia started asking questions.
Image: arawyndesigns