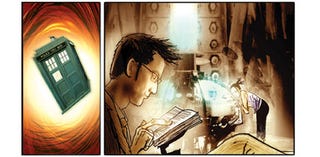 Superstar artist Ben Templesmith posted some pages, including some work in progress, from his new Doctor Who comic, "The Whispering Gallery," written by Leah Moore and John Reppion. And they're glorious.
And yes, that's Alan "Watchmen" Moore's daughter. To be honest, her comics work hasn't blown me away so far, but the art is amazing enough (and lifelike enough) that I almost don't care.
According to Comic Book Resources:
"The Whispering Gallery" takes place during the tenth Doctor's travels with companion Martha Jones, on a planet where showing emotions has been outlawed. "It's not based on Earth, so we get to do some aliens and monsters which is always fun," Moore said. Though the inhabitants of the planet have good reason for playing things close to the vest, the good doctor is not about to let that suppression stand. "The story kind of picks up on the consequences that the Doctor's actions have on the universe, and the people he touches, and then we get to see how it pans out eventually."
This may be one you'll want to pre-order. Says Templesmith:
A one-shot comic from IDW Publishing. Would make a cool tv episode if it weren't a comic.

Since it's damn hard to get things from the smaller publishers, if you want the book you may have to get your retailer to order it in specifically for you. If you still want one, it may not magically appear on the shelf, especially not in these tougher times. So you have to go tell your retailer you actually *do* want a copy and to make sure they get one for you.

Tell em it's Previews catalog order number is: DEC084084 and tell them you know some Daleks with abnormally sized genocidal plunger weapons...