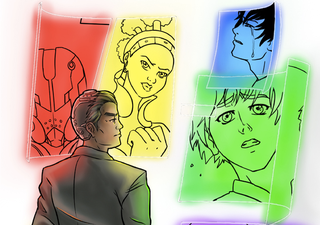 Many fans are demanding more diversity in comics, movies and TV. What you may not realize is that there's already a community of creators producing stories about diverse characters. Now is a great time to get into their work.
Illustration from the cover of The Agenda
"Many of the people who have been calling for more diversity are still not supporting those who are creating diverse materials," says Brandon Easton, a writer for the Eisner award nominated Watson and Holmes comic from New Paradigm Studios, "the true problem is that so many geeks of color are hardwired to mainly support mainstream shows, movies, comics and novels so they are deeply reluctant to give new creators of color a chance out of a fear of supporting low quality material. There's also a strange and unfounded assumption that, for example, a black writer of speculative fiction will hide an "agenda" within their stories and this so-called agenda will disrupt the flow of an escapist tale."
Easton boasts an impressive resumé, from his award-winning graphic novel Shadowlaw, to upcoming projects like his work on the Armarauders series and an Andre the Giant biography from Lion Forge Comics. Still, he expresses concerns over the struggles diverse creators must overcome, "Even authors and creators signed to traditional publication deals have to go above and beyond when it comes to getting people to look their way."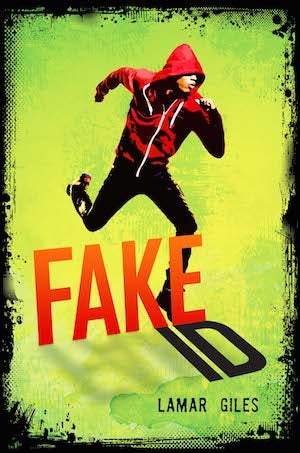 In May 2014, the #weneeddiversebooks hashtag rocked Twitter, trending for days, filling feeds with thoughtful photos and declarations about the necessity for more racial, sexual, gender, disability, and religious variety in children's literature. The movement was started by a group of writers, readers, bloggers, educators, librarians, and general book lovers to challenge notions that there's no audience for diverse works. Now more than a hashtag, the We Need Diverse Books organization continues advocating for authors and readers creating and/or seeking material spanning a wide range of human experiences.
We Need Diverse Books president Ellen Oh says, "We need to see more diversity everywhere, especially in our media, which continues to perpetuate so much racism, sexism, and intolerance by their belief that a certain narrative—white, male, straight, able-bodied—is most important. When you see more diversity in the books, comics, and graphic novels that our children are exposed to, you raise a new generation of kids who will embrace it."
PK Eiselt, an organizer of the LGBTQ comic convention Bent-Con, and creator of the The Agenda, a manga style sci-fi political satire that looks at the nature of discrimination in a world where gays rule, says, "Creators have to create quality work that speaks to larger audiences than just their own niches. It seems that very often, minority creators pander to their fanbase, but that approach will never create mainstream acceptance."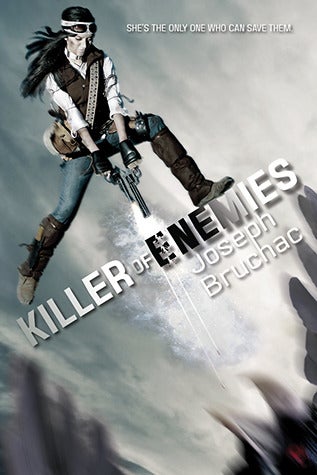 Even when creating work that appeals to mainstream sensibilities, recognition and acceptance are areas where diverse creators face the biggest challenges, resulting in admirable works worthy of a larger audience languishing in obscurity. Popular entertainment and trade publications can help raise awareness for creative properties by running profile pieces and reviews, but they tend to focus on mainstream work that pushes the conventional narrative.
That's why We Need Diverse Books does not rely solely on traditional channels to raise awareness for diverse works. At www.diversebooks.org booksellers can find a link to a cheat sheet to help hand sell diverse fiction to all customers. And, the We Need Diverse Books Summer Reading Series provides suggestions for readers based on popular mainstream works. (Example: one infographic recommends fans of Superman give The Shadow Hero by Gene Luen Yang & Sonny Liew a try; another points fans of the worldwide bestseller Divergent by Veronica Roth toward Killer of Enemies by Joseph Bruchac.)
Critics of diverse media movements see the outcry as arbitrary, claiming "a good story is a good story" regardless of a character's race, gender, sexual orientation, etc. Or, diversity movements are dismissed as "reverse racism," a targeted attack on white creators and characters. Such critics fail to understand what writer Chimamanda Ngozi Adichie called "the danger of a single story" in her 2009 TED Talk. Diverse stories benefit everyone.
Illustration from Watson and Holmes
Oh says, "It's as important for readers in a dominant group to see marginalized people as strong, capable heroes as it is for marginalized people to see themselves, particularly at an early age. It helps foster understanding and empathy for others. So today's children don't grow into adults who can't handle the idea of gay marriage, or adults who automatically assume that a black teen did something to incite his own death at the hands of whoever is armed and in the vicinity."
"America is an amazing and diverse country," says Eiselt, "and our culture is the gestalt of many different types of people. By not acknowledging and celebrating that in our fantasies, mythologies, and legends, we are being culturally dishonest, and the stories are ultimately incomplete."
Increasing diversity in media isn't only about aiming for equal representation. It's about challenging ingrained mindsets and making sure voices that differ from the dominant paradigm are heard. The first step was voicing the desire for diversity. Now that the world is listening, the next step must be taken. Fans must support the diverse creators and properties they have instead of waiting for some mainstream comic company, publishing house, movie studio, or television network to find them worthy.
Or, they can keep waiting for what's already arrived.
Lamar Giles writes stories for teens and adults, and is a founding member of We Need Diverse Books. His YA thriller FAKE ID is out now, and his next novel, ENDANGERED, will be published by HarperCollins in 2015.
Resources for supporting diverse material and creators:
We Need Diverse Books Summer Reading Series
Grace Lin's Diversity Cheat Sheet for booksellers
Geoffrey Thorne, Kevin Grevioux, Hannibal Tabu, N.K. Jemisin, Tobias Buckell, DeWayne Copeland (CV Nation), Enrique Carrion, Robert Roach, John Jennings, Anthony Montgomery, Erika Alexander, Tony Puryear, Vince Moore, Dani Dixon, Jenn Brissett, Minister Faust, Joe Illidge, and Daniel Jose Older.
PK Eiselt recommends works by:
Dylan Edwards, Steve McIssac, Alex Woolfson, and Brian Andersen