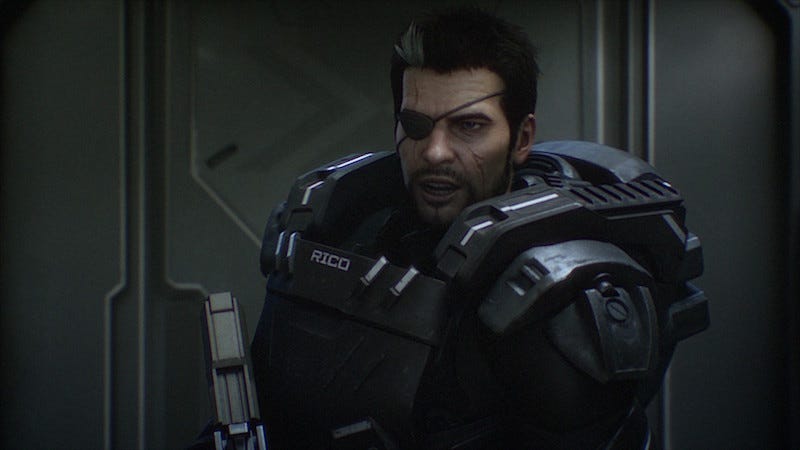 Starship Troopers—that movie that you debate with your friends about whether it's very brilliant satire or very dumb action—has had a number of sequels. The latest one is Starship Troopers: Invaders of Mars and of course it's a CG-animated cartoon. That makes sense.

I mean, it makes sense when you realize that Starship Troopers has had a sequel, two direct-to-video sequels, and a spin-off TV show that was also a CG cartoon. Of course it would come to this, an animated movie that brings back Casper Van Dien (who popped up in the first direct-to-DVD sequel and the video game) as Johnny Rico and Dina Meyer as Dizzy Flores. Because animation means never having to explain anyone's aging.
Here's the official synopsis and a trailer:
In "STARSHIP TROOPERS: TRAITOR OF MARS", Johnny Rico has just been demoted and sent to a small satellite station on Mars whilst the Federation attacks the bugs' home planet. While trying to train his new recruits on this remote quiet station, the bugs show up in a surprise attack but the Federation's Fleet is too far away to help. It's up to Rico and his Troopers to save the planet and uncover how the bugs made it so close to home.
Anyway, if you want to see this in a theater and not just in your home, there is exactly one day to see it: August 21. Tickets will be on sale about a month before, on July 19. Fathom Events and Sony Pictures Worldwide Acquisitions have packed the screenings with behind-the-scenes extras and an introduction by introduction by Van Dien and writer Ed Neumeier.