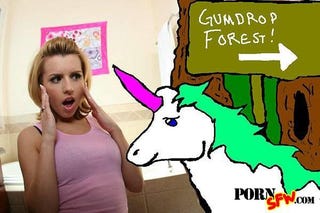 In an achievement that takes our "Map Porn" tag to its ultimate limit, the scholars/gentlemen of Porn MD have composed a completely SFW interactive map that displays the top 10 pornographic search terms of many, many countries. The results are both informative, terrifying and hilarious.
For instance:
• USA's #1 term is "MILF," which I think says a lot about us.
• Russia is oddly fixed on ex-porn star Sasha Grey, whose name ranks #5 on their list.
• Spain's #4 term is "cumlouder," which I absolutely refuse to Google myself.
• India keeps it in the family and keeps it extremely specific with their #4, "Indian Aunty."
• Libya's #1 is "Silver Daddies" and #3 is "American anal sluts," proving that the U.S. is still producing the world's best anal sluts, at least.
• The #1 search term in China is "Japanese," which is its own political nightmare, I think.
And that's not all! If you aren't feeling international, they also have the Top 10 XXX search terms for each U.S. state! I have to warn you, though, it's mostly "Teen" and "MILF" until you get to my home state of Kentucky, whose #1 is "Free Gay Porn," possibly the only geographic area on the planet that requests for its porn be free. Are we cheap? Or are we just savvy economists? Time will tell.
You check out the full map here at (again, the totally SFW) PornMD.