Pierre Cardin's space-age designs thrilled fashion runways this fall, but we're equally impressed with his bling-bling French villa. Designed by genius architect and designer Antti Lovag in the mid 70s, Cardin was walking around Cannes when he came upon the construction site of the architect he was about to employ to create a bubble house. More awesome images from the house, and a gallery of Lovag's best, after the jump.
Before coming to the attention of Cardin (above), AnttiLovag was born to a Jewish father and a Finnish mother. He moved around a lot as a child, including time spent in Turkey. Once working under French architect Jean Prouvé, his studies of naval architecture informed many of his later designs. After his health started to suffer, he began to look to architecture with a lighter eye:
A heart attack inspired Lovag to reflect on life, and his new outlook of course influenced his architecture. "I discovered that I was mortal—meaning I discovered that I was free. I realized that building as if for eternity is an attack on time itself. Furthermore, it usually leads to an angular, aggressive organization of space. On the other hand, when one knows one's limits, all that is swept away."
Lovag:
I began to think about improvised buildings, cobbled together on-site and adapted to a particular person's desires or idea of a house," he explains. "Instead of construction based on prefabricated panels, I began experimenting with frameworks that could be bent and changed and with techniques of concrete surfacing. That way, forms could move again." Architecture's first task, he came to believe, was to eliminate inhuman angularity.
G/O Media may get a commission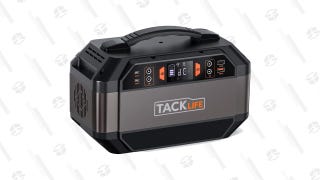 Tacklife Portable Solar Generator
As with most everything, the apparent subtext of this villa is the actual meaning:
Cardin, too, adores curves. "The circle is my symbol," he says. "The sphere represents the creation of the world and the mother's womb. Holes, cones, breasts—I've always used them in my designs."
Lovag's website has more of his bulbous creations, and we've collected a gallery for your perusal below.
Antti Lovag's Amazing Website [Habiter-selon-lovag.com]