A young girl with telekinetic powers. A war between good and evil. The fight to give the girl a brother to mate with. And blond Jesus Christ. These are just a few of the elements that make Giulio Paradisi's 1979 movie The Visitor the "Mount Everest of insane '70s Italian movies," coming out this week on DVD!
Don't believe me? Here's the official description: "In this unforgettable assault on reality — fully restored and presented completely uncut theatrically for the first time ever in the U.S.—legendary Hollywood director/actor John Huston (The Maltese Falcon; Treasure of the Sierra Madre) stars as an intergalactic warrior who joins a cosmic Christ figure in battle against a demonic 8-year-old girl and her pet hawk, while the fate of the universe hangs in the balance. Multi-dimensional warfare, pre-adolescent profanity and brutal avian attacks combine to transport the viewer to a stat unlike anything they've experienced… somewhere between Hell, the darkest reaches of outer space, and Atlanta, GA."
G/O Media may get a commission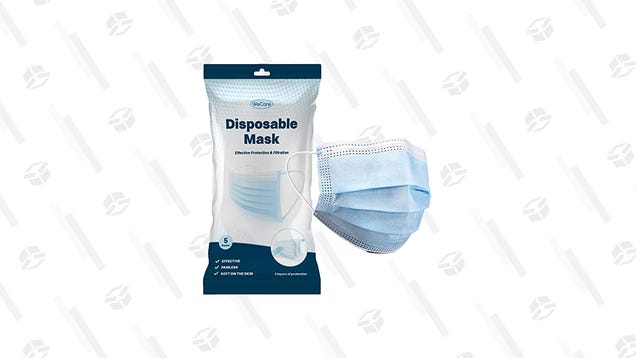 WeCare Disposable Masks With Elastic Earloops- 5 Pack
Academy Award-winning director Wong Kar-wai gets into the "let's make a movie about Ip Man, the guy who trained Bruce Lee" game.
• Oldboy
Spike Lee gets into the "let's make a remake of an Asian movie that was already completely awesome on its own" game.
The adorable ragamuffin mouse Fievel fails to go west, but he does finally come to Blu-ray. Virtually no extras came with him, though.
A bunch of extremely selfish astronauts' return home from Mars is delayed when one of them accidentally turns into an alien zombie thing.
• Nadia, The Secret of Blue Water: Complete Series:
The beloved 1990 anime series directed by Evangelion's Hideaki Anno, from an idea by Spirited Away's Hayao Miyazaki, about a girl named Nadia, the lost city of Atlantis, and a mysterious pedant that ties the two together.
• Are You Afraid of the Dark Vol. 2
Thirteen episodes of the classic kids' horror series from Nickelodeon.
• Dracano
Volcano + dragons, obviously.