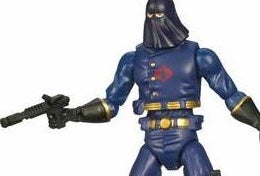 2009 is apparently already the year of the Joe. In addition to the GI Joe movie - and, yes, Sienna Miller does make a rather fetching Baroness, thank you for asking - those Real American Heroes will also be seeing a new line of comics from the people who currently bring you Transformers, Angel, Doctor Who and Star Trek comics. But what should we expect from the new four-color versions of the fight against international terrorists Cobra?
The publishing deal was announced in a joint statement from Joe owners Hasbro and publishers IDW Publishing:
The first products from this deal, a new monthly comic book series based on classic G.I. JOE vs. COBRA lore, will be launched with an introductory debut issue in October 2008. Featuring all-new storylines, the comics will portray the epic struggle of the G.I. JOE team against the evil forces of COBRA, while highlighting the brand's favorite heroes and villains that made kids of the '80s today's fans.

In 2009, IDW will also produce comic series both inspired by and based on the upcoming G.I. JOE live-action major motion picture from Paramount Pictures and Hasbro slated for August 7, 2009, as well as deluxe reprints from the vast G.I. JOE vs. COBRA comic history. The planned IDW comic book projects will be distributed to a wide audience through comic book outlets, trade bookstores and mass retailers.
In other words, expect to be bombarded with more GI Joe than you know what to do with within the next year. IDW chief Chris Ryall unpacked the deal for fans at Newsarama:
We'll take a similar [publishing] approach to the Transformers, with the movie continuity being its own animal... two continuities, movie and the regular Joe "universe" comics. As to what the main monthly series will be... we'll talk details on that very soon. [We're planning on reprinting as much material as we can], including some old comics that have never been collected in traditional comic-book form, which will be explained more thoroughly later on. I especially want to get all the hard-to-find Marvel material offered up in attractive new formats. And we have some plans to update some of those stories in ways that will make long-time fans very happy.
Ryall also confirmed that longtime Joe writer Larry Hama will be involved with this new line, saying that "it wouldn't be G.I. Joe with Larry Hama's involvement." Hama not only wrote the 1980s Marvel GI Joe series, but also the background material available with the toys themselves.
And for everyone who says that GI Joe isn't SF and therefore shouldn't be mentioned on io9, you don't remember Payload?
IDW Lands GI Joe License [Comic Book Resources]
Chris Ryall on IDW & GI Joe [Newsarama]