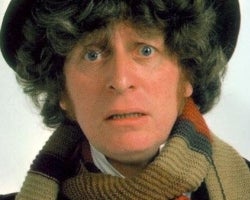 Proof that Tom Baker knows a bandwagon when he sees one, the former Doctor Who (and Randall and Hopkirk (Deceased) remake) star has announced that he, too, would be willing to appear in the next season of the BBC's time-travelling series, if anyone's asking.
Baker, who's definitely "my" Doctor (Even now, I find myself wondering how David Tennant would look in a lengthy scarf, so strong was the impression Baker made on my childhood self), told UK newspaper Kent News that he'd be willing to pretend to be thirty years younger, should the invitation be polite enough:

Perhaps I might make a guest appearance - perhaps. Providing they ask me nicely, of course.
So now we have Baker, Davison... how long before Colin Baker and Sylvester McCoy also realize that their careers could do with a bit of a boost?
Tom Baker ponders 'Doctor Who' return [Digital Spy]