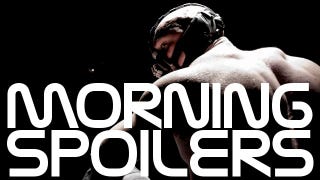 Morning Spoilers
If there's news about upcoming movies and television you're not supposed to know, you'll find it in here.
Just for old time's sake, we examine a ridiculous rumor about Joseph Gordon-Levitt's Dark Knight Rises character. A new Star Trek set photo reveals Spock's latest action sequence. Plus more Skyfall details, James Cameron talks Terminator, and the first Dark Shadows reactions!
Spoilers from here on out!
Top image from The Dark Knight Rises.
The Dark Knight Rises
Tom Hardy explains how Bane is even more villainous than Batman's previous arch-nemesis, the Joker:
"The Joker didn't care. He just wanted to see the world burn, and he was a master of chaos and destruction, unscrupulous and crazy. Bane is not that guy. There is a very meticulous and calculated way about Bane. There is a huge orchestration of organization to his ambition. He is also a physical threat to Batman. There is nothing vague about Bane. No jokes. He's a very clean, clear villain."
[EW]
It's been a while since we've had a batshit insane rumor about the real identity of Joseph Gordon-Levitt's cop character John Blake. While it's more or less a certainty at this point that Marion Cotillard's character Miranda Tate is actually Talia al Ghul, all indications are that John Blake really is just John Blake, and not Robin or whoever else. The latest rumor is that he's Azrael — which only makes a smidgen of sense insofar as Azrael was Batman's temporary replacement in the Batman storyline after Bane broke his back, and of course Bane is in this movie. Weirdly, the latest speculation doesn't even really touch on that angle, instead just suggesting Gordon-Levitt's character will be part of the underground resistance to Bane's control of Gotham, and he might have a codename, and hey! Might as well make it Azrael. Or Robin, as the speculation continues. Ah, stupid, groundless, and nonsensical Dark Knight Rises rumors — I'll miss you most of all. [Comic Book Movie]
---
The Avengers
Here's the latest preview clip.

There's a new rumor for the movie's post-credits scene, and it's not nearly as ultra-spoiler-y as yesterday's. The idea seems to be that last weekend's premiere only included a scene during the credits, and the still to be shot scene Robert Downey, Jr. and Mark Ruffalo referred to will be one that airs after the credits. The best guess as to what this entails would be a montage of various Avengers by themselves, "recieving some sort of means of communication S.H.I.E.L.D can use in the future to assemble The Avengers once again", possibly set to some sort of Nick Fury voiceover. All this is pretty much just speculation though. [/Film]
---
Star Trek 2
Here's a set photo of Zachary Quinto filming a stunt scene that, if the following description is to be believed, involves a volcano in a big way — which, really, is the only way you can involve a volcano:
Zachary Quinto as Spok filming an action scene for the Untitled Star Trek 2 Sequel. After first rehearsing the scene with a Spok Stunt Double Actor Zachary Quinto was then rigged to a wire in front of a large green screen and lifted to a height of 10 stories high then dropped at a high rate of speed as if he was falling. In the scene Spok is wearing a "Volcano Suit" and carrying an unknown piece of equipment with the Starfleet Emblem. A Volcano is somehow involved in this scene. The crew had a real fire burning off camera to catch the fire reflections on Spok's "Volcano Suit".
If you can ignore the tiny detail that the person writing that description apparently doesn't know how Spock is spelled, this all seems plausible enough. [MTV Movies Blog]
---
The Amazing Spider-Man
Here are two new posters. [Coming Soon]
---
Prometheus
Here's an international trailer, albeit one dubbed in Russian. [/Film]

For those with a half-hour on their hands, here's the complete press conference from the other day, featuring director Ridley Scott and stars Noomi Rapace, Charlize Theron, and Michael Fassbender. [Prometheus Forum]

---
Looper
Director Rian Johnson has provided commentary on the recently released trailer for his time travel epic. Check it out at the link. [MTV Movies Blog]
---
All You Need Is Kill
The Adjustment Bureau and Looper actress Emily Blunt is reportedly in negotiations to play a fellow soldier in this Tom Cruise vehicle about a futuristic soldier who keeps reliving the last day of his life over and over again. The movie is being directed by The Bourne Identity's Doug Liman. [Variety]
---
Terminator 5
James Cameron has served as an unofficial adviser to all parties throughout this long-simmering — and now temporarily halted — development process on the fifth Terminator movie. His big message, particularly to potentially returning star Arnold Schwarzenegger, is that the franchise needs to get back to the T-800:
"I was talking to him back in fall about a new 'Terminator' film and quietly advising on that, I suppose you could say. I was trying to be as encouraging as possible. Frankly, at that time, I thought it needed to be more about him. I told him he should not do it until it's focused on his character or he shouldn't do it. I think there are some great stories that can be told about that character that haven't even been thought of yet."
---
Dark Shadows
Entertainment Weekly's Anthony Breznican has seen Tim Burton and Johnny Depp's vampire movie, and he has some moderate praise for their update on the 1970s supernatural soap opera:
I've seen final cut of Dark Shadows. Tone similar to Burton and Depp's Sleepy Hollow – lots of humor, but with menacing, atmospheric edge... In Dark Shadows, there's an absurdist bent to the monster element. The creatures of the night are adrift in the self-obsessed world of [the] 1970s...In typical Burton fashion, humans are scarier than the fiends. If [you] want Interview [with] the Vampire, that movie exists. This is a more wry take...Yes [it's good], [with] qualifier. You won't think it's good if you want somber, serious scares. But if you like Buffy, you'll like this.
[/Film]
---
Noah
Russell Crowe is pretty much set to play Noah in Darren Aronofosky's big budget reimagining of the biblical story, so the question now is who will be joining him in the film. There's a rumor going around that Jennifer Connelly, who rather memorably worked with Aronofsky before in Requiem for a Dream, is in talks to play Noah's wife Naameh, while Hanna star Saoirse Ronan is under consideration for a supporting role. However, both these reports have more or less been completely debunked. [Tracking Board via /Film]
---
Skyfall
A set report from IGN reveals there will be a big chase sequence between Daniel Craig's James Bond and Javier Bardem's villainous Silva, which reaches its climax in a Pinewood Studios set made to look like London's Temple Street tube station. Here's a description:
Bond has pursued his quarry Silva (Javier Bardem) into a tunnel. After an exchange of gunfire, Silva, who is dressed as a Metropolitan Police officer, triggers an explosion in the wall behind Bond that will send the train traveling above crashing through the ceiling, nearly killing both hero and villain. Alas, we only saw the explosion and not the train derailment, which was scheduled to be shot the next day. This sequence is one of two major train stunt set-pieces in Skyfall (the other will be shot in Turkey in the coming weeks), both of which were designed by Oscar-winning special effects whiz Chris Corbould and his team.
Other sets at Pinewood reportedly include "an MI6 safe house, an abandoned Japanese island city, a Shanghai highrise and a waterfront casino in Macau." The island city is where Bond meets Silva, while he meets a beautiful woman at the casino. Daniel Craig also clarifies that, despite the plethora of London set photos, only a relatively small part of the movie is set in the city:
"That's actually a little bit of a misconception. We're filming a lot in London, but it's only because we get photographed in London every time we go out into the streets. But the rest of the time we've been here in Pinewood on huge sets, which are based all around the world. We're about to leave for Turkey next week, which will sort of double the number of locations. We're using London in a very particular way. Sam [Mendes, the director] and everybody, we were all very keen to capture the parts of London you wouldn't ordinarily see but that Bond would have access to. So it's partially very much about London and partially about lots of other things."
There's more at the link, including some small tidbits from the rest of the cast that's more or less in line with what we've heard before. French actress Berenice Marlohe does reveal her "enigmatic" character shares some scenes with Bardem's antagonist. [IGN]
---
Ghostbusters 3
When asked about the movie by WGN, Bill Murray softened a bit on his whole "there's no way in hell I'm doing this" stance by saying, "Well, it's a possibility." That's pretty much all he had to say on the subject, so there's no real way of gauging whether there's anything to this beyond him being polite. [San Jose Mercury News]
---
G.I. Joe: Retaliation
Here's a new promo image. [MTV Movies Blog]
---
Fringe
Here's a short description for episode twenty-one, the first half of the season-ending two-parter "Brave New World", which airs May 4 and guest stars Jared Harris as David Robert Jones and Lost's Rebecca Mader as new character Jessica Holt:
WALTER REVISITS HIS PAINFUL PAST ON AN ALL-NEW "FRINGE" - A mysterious Fringe event causing people to spontaneously combust forces Walter to revisit his painful past while the Fringe team faces off against David Robert Jones to save the world, or worlds.
---
Game of Thrones
Here's a promo for next week's episode, "Garden of Bones."

---
True Blood
Here are two promos for season five, which premieres June 10. [Coming Soon]

---
Once Upon a Time
Here's the description for episode twenty-one, "An Apple Red as Blood", which is set to air May 6:
HENRY PLEADS WITH EMMA TO STAY IN STORYBROOKE AND CONTINUE HER QUEST TO SAVE THE FAIRYTALE INHABITANTS, AND SNOW WHITE - WITH THE AID OF FELLOW FAIRYTALE COHORTS - PLANS AN ATTACK AGAINST THE EVIL QUEEN IN ORDER TO SAVE PRINCE CHARMING, ON ABC'S "ONCE UPON A TIME"

"An Apple Red as Blood" - Henry pleads with Emma to stay in Storybrooke and continue her quest as the savior of the fairytale dwellers, and Regina concocts a plan that could rid her of Emma forever. Meanwhile, back in the fairytale land that was, Snow White enlists the aid of her fellow fairytale cohorts to attack the Evil Queen and save Prince Charming's life.
---
Grimm
Here's the description for episode twenty, "Happily Ever Aftermath", which will air May 4:
HE CLASSIC CINDERELLA TALE TAKES A VERY DARK TURN - Nick (David Giuntoli) and Hank (Russell Hornsby) are called to investigate the mysterious death of a wealthy matriarch, after her stepdaughter loses everything in a Ponzi scheme. Meanwhile, Juliette (Bitsie Tulloch) does some digging into the mysterious death of Nick's parents in an effort to help him find closure.
[KSiteTV]
---
Touch
Here's the description for episode seven, "Noosphere Rising", which is set to air April 26:
MARTIN SEARCHES FOR TELLER'S WORKSHOP ON AN ALL-NEW "TOUCH" THURSDAY, APRIL 26, ON FOX

Martin attempts to find Teller's mysterious workshop and winds up aiding another professor, Logan, to win big at poker. Meanwhile, a young Italian man creates a viral video to track down the love of his life, whom he only met in passing, and a city slicker who plans to sell off his dead father's ranch, winds up learning a lesson from a horse that makes him appreciate the rural life his father chose. Then, Martin's sister-in-law, Abigail Kelsey, visits Clea and Jake at the board-and-care facility, much to Martin's dismay.
[KSiteTV]
And here are some photos for the following week's episode eight, "Zone of Exclusion." [SpoilerTV]
---
Supernatural
Here's a sneak peek at this Friday's episode, "Of Grave Importance", featuring an always welcome return appearance by Jim Beaver as Bobby.

---
The Vampire Diaries
Here's a sneak peek for this Thursday's episode, "Heart of Darkness."

---
The Selection
The CW has reportedly begun test screenings for its pilots, and the reaction to their post-apocalyptic drama has reportedly been quite positive so far, although — and this is a complete shock — the big note so far has been it's "extremely similar to the Hunger Games and needs to show more originality/deviate from the Hunger Games format in future episodes." [SpoilerTV]
---
Additional reporting by Ben Vrignon and Charlie Jane Anders.