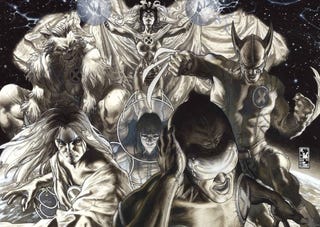 Marvel Comics plans to publish a much less depressing version of the X-Men, if news reports coming from this weekend's WizardWorld: Los Angeles are anything to go by. Following the culmination of literally decades of angst, death and depression culminating in the accidental shooting of Professor Xavier and its aftermath, July will see the start of a new era for the characters. Writers Warren Ellis and Matt Fraction are joining the writing team, the team is moving to San Francisco, and... well, there some sex, apparently.
According to Fraction, who'll be co-writing the Uncanny X-Men comic with Captain America-killer Ed Brubaker, readers should expect the following new take on the evolutionary-based franchise:
These people were once the future, and now they're standing on the verge of extinction. And they still defend a world that hates and despises them. The ones that believe in tomorrow are running on faith and fighting off doubt. What's to keep them holding on? That crux at the core of all the characters, in all of its different forms, is what we're going to be looking at. There's a wildly new status quo that speaks to the very heart of who the X-Men are, and who they've always been. Facing the end of the mutant genetic line only serves to magnify that.

Oh! And stuff blows up; everybody has lots of sex, and then dies.


That last part, one presumes, won't apply to everyone; there are around eight ongoing monthlies in the X-family, after all (Ellis will be taking over Joss Whedon's Astonishing X-Men series, which will be renamed Astonishing X-Men: Second Stage to reflect the new direction. The art above comes from that series, by Simone Bianchi). Amongst those who won't die, according to Brubaker, is former disco diva-turned-superhero Dazzler, who'll be re-appearing in Uncanny soon. With the series re-locating to San Francisco, we can only hope that she'll act as retro inspiration for Peaches Christ and Midnight Mass before too long.
Brubaker and Fraction Talk About Uncanny Days To Come [Newsarama]