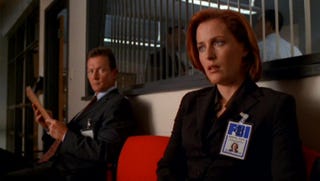 Gillian Anderson delighted us for years as the skeptical Agent Scully on The X-Files, and now she wants to return to the genre that made her famous, this time as an author. However, the main character in her upcoming book series sounds tailor-made for Anderson as an actress.
Anderson told Entertainment Weekly that she's working a series titled EarthEnd Saga, and that the first book, A Vision of Fire, will be coming out from Simon & Schuster's new speculative fiction Simon451 imprint in October. But Anderson isn't undertaking this project alone; writer and editor Jeff Rovin will be co-authoring the series—so it's not clear how much writing Anderson herself is doing.
Anderson certainly wouldn't be the first actor to find a second career in writing, but the main character in A Vision of Fire certainly sounds like she would be played by Anderson if the story found its way to the screen. That character would be Caitlin O'Hara, a child psychiatrist who travels the world treating children who have been traumatized through natural disasters and war. One of her patients, a young girl, proves particularly troubling. Anderson told EW, "Over the course of spending time and helping her and investigating the origins of the girl's trauma, Caitlin begins to realize that the girl's behavior is tied to much greater forces in the universe, and as the story unfolds, she must prevent destruction on a grand scale." Perhaps Anderson is trying to build a future role for herself, or perhaps part of the appeal of the book will be imagining Anderson reading the dialogue in her cool Scully voice.
'The X-Files' star Gillian Anderson to pen sci-fi book series for new Simon & Schuster imprint [EW via The Guardian]