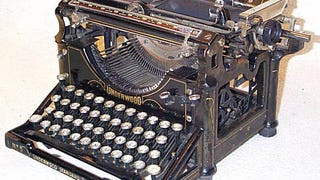 At last, we're ready to bring in some new writers at io9. We're looking for people to fill two roles: entertainment writer and science writer. For the entertainment writer, we want somebody who can cover the entertainment side of science fiction, who has contacts in the scifi film, TV, and/or game industries, and can break news for us. The ideal candidate is a reporter, pounding the pavement and digging up stuff nobody else has — somebody who will go on sets, go to parties and junkets and screenings. We prefer someone who lives in the Los Angeles or New York areas. Must eat, breathe, and live science fiction, and a background in real science would be a bonus. Read on for more details.
For the science writer, we're looking for a reporter who will find the latest cool stories about technologies and scientific experiments that will change the future. Ideally, this person will have a strong science background and some experience reporting as well. Must be able to explain science to a lay audience, but must also be comfortable speculating about where today's research will lead tomorrow.
Here's what you need to be an io9-er:

At least two years of relevant experience with entertainment blogging or journalism.

Ability to write 8-10 items per day, ranging from short one-offs to features and photo galleries.

Experience with video editing, blogging software, RSS readers and graphics software is a big plus.
Salary is competitive with online and print reporting jobs.
Please submit a cover letter, resume, and links to three recent writing samples.
For the entertainment job, mail to entertainmentjob@io9.com. For the science job, mail to sciencejob@io9.com. Send ASAP!