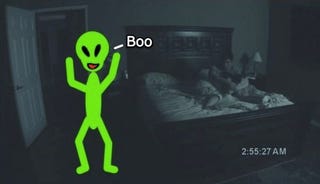 While Paranormal Activity continues to ride its hype machine as the scariest movie ever made, writer/director Oren Peli is already preparing his next terrifying epic, all about aliens and Area 51.
According to Variety Peli begins production on Area 51 next week. And yes it will continue to have that home made "found footage" look.
The movie will be about three teens whose enter Area 51 out of curiosity, and apparently bring a camera along...
Then they get lost because one of them jokingly threw the map in the river and then another one mysteriously disappears in the night and the girl of the group finds a piece of him tied to his old plaid shirt. Then they run and they scream and they run and they scream and stand in a corner... then screen-fuzz.
The second half of that is guesswork on our part, but the first half is true. The same producer who worked on PA will be working on Area 51. Hype or not, PA has great buzz for scaring some folks — so jokes aside, we're ready for scary aliens, because it's been a really long while since we've been scared by our manipulative space neighbors. Let's just hope that Milla Jovovich didn't beat them to the punch.