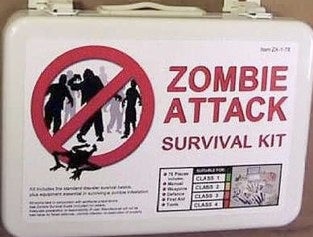 It's been a while since we've heard anything about the status of the movie adaptation of Max Brooks' World War Z. But it looks like the revised script may be finally finished.
MTV spoke with the World War Z author who gave us all an update. First the Babylon 5 creator, Michael Straczynski, wrote the original adaptation. Then The Kingdom's Matthew Michael Carnahan came in for another round. Why? Well the author sounds as in the dark as we are.
"You know... the studio comes in and gives their notes and [director Marc] Forster came in and gave his notes," he explained. "Carnahan was brought in for reasons unbeknownst to me. Maybe he's doing a polish, maybe he's doing a top-down rewrite. I know that his draft is supposed to come in in the next few weeks."
While I'm glad the film is moving forward, I worry about Quantum of Solace director Marc Forster running the show, because of the bad taste Quantum left in my mouth. But either way, it's a great book that deserves its moment on the big screen, so this is a good step for the continuation of quality Hollywood zombie movies.