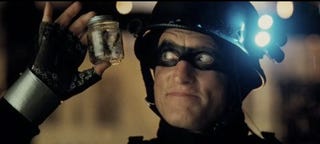 Woody Harrelson takes a break from slaughtering the undead to smacking around a few criminals, in his homemade superhero film Defendor. The first official trailer is out, showcasing his crime-fighting toys, lime juice, tape, marbles, and Batman voice.
We have to admit, Woody is really starting to find a home in our hearts with his latest batch of weird characters. The film was directed and penned by Peter Stebbings, who played Malek in Stargate SG-1's "Allegiance" episode. The part-comedy, part-drama film has been hitting the festival circuit, but will arrive in theaters on February 26th.
Synopsis:
Bruised and beaten, arm in a sling, neck in a brace, Arthur Poppington (Woody Harrelson) sits in front of court-appointed psychologist Ellen Park (Sandra Oh). After making her swear to secrecy, Poppington begins to tell the story of his secret life as "Defendor" – yes, that's an "OR" – spelling is not one of his super powers. By day, Poppington directs traffic around road construction sites, but at night he dons a pair of black tights, a black jersey with a crude "D" duct-taped to his chest, and trawls the streets as his alter ago. As Defendor, Poppington engages in what he believes is a super heroic fight against crime in an attempt to fulfill his unrealized dream of capturing his archrival, Captain Industry – a gun trafficking crime lord who Poppington mistakenly believes is responsible for the death of his mother.