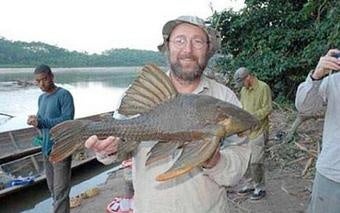 Researchers have discovered an elusive wood-eating catfish in northeastern Peru. This approximately 2-foot-long catfish uses its teeth to scrape wood from submerged trees.
The catfish was found in the Alto Purus region of Peru. Says Harvard zoologist Paulo Petry of the xylophagous fish:
The particular specimens that we captured are the first that are fresh specimens, so we have the entire fish from which to take tissue samples [...] They seem to be really tough to find and catch. You have to catch them with gill nets or cast nets, or shoot them. Since they eat wood, you're not going to catch them with a line.
[Via The Telegraph. Photo via Paulo Petry.]