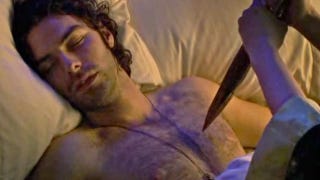 When Aidan Turner was cast as Kili the dwarf in Peter Jackson's The Hobbit, fans cried out that surely Being Human's vampire Mitchell (also played by Turner) was now marked for death.
Combine that fear with the show's recent storyline for Mitchell and we're starting to believe the rumors. So what did the actor have to say about it? Spoilers ahead...
The recent premiere of Being Human featured Mitchell learning that he would meet his demise sometime soon by a "wolf shaped bullet," an obvious reference to a werewolf. After last seasons 20-person killing spree, we're not sure that Mitchell wouldn't welcome death as a relief from his all-consuming guilt. Is this eerie premonition trying to warn fans that Mitchell may not be coming back for a 4th season?
Entertainment Weekly asked the actor directly:
After the premiere aired in the UK, and Mitchell found out about his imminent death, the Internet went wild with speculation that this was a set up for you to depart the show now that you're starting a film career.
Well, that's what the Internet does, isn't it? It fuels gossip and stuff. It's a long shoot over here for The Hobbit. It's two movies. We haven't talked yet about dates for series four of Being Human. It's so up in the air and it's so far away that I can't really commit to anything. And they need to plot out storylines and see how long they need Mitchell for, so I guess we won't know until a later date what's going on.

So, you are planning on returning to the show.
Yeah, if it all works out. The BBC needs to talk to me about dates. All the boring stuff needs to be cleaned up, and then I guess we'll see.

Then being cast in The Hobbit hasn't majorly altered your life or career yet?
I don't think until the first movie comes out that anything is really going to change. I'm just going to keep working. In that regard, nothing's changed. I've been pretty busy with Being Human and I've gone straight on to The Hobbit. It's a really long project and it's really enjoyable and brilliant and we're all dead excited to be doing it. So nothing's changed.
Not really an answer, but can you blame him? It's The Hobbit. We wouldn't hold it against him if he left Being Human, for a time. But we don't want Aidan to break up the infamous trio and their amazing chemistry forever! That would be a disaster. Fingers crossed that even if he's killed off, he finds a way to come back — he's a vampire, after all.