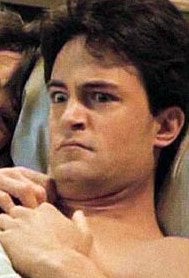 Wanna know what those Egyptian symbols in the smoke monster's home in Lost could represent? We've got some leads. But first, what is Matthew Perry doing on the island? Could this BE any more confusing?
According to Star Pulse, it was always a dream of Matthew Perry's to wind up on the island with Jack and Sawyer (but surely not with Kate, because everyone hates her).
"I want to be on that show so bad, but people would be like, 'What's Chandler doing on the island?' So it isn't going to happen. But I am truly addicted to the show. I even follow the story lines online."
I couldn't have said it better myself, but logic and moment ruining be damned, our boy Bing's dreams have come true because low and behold IMDB claims he's in the season finale, titled "The Incident." Oh but it's even better, because the finale is a two-parter and he's in BOTH OF THEM. I enjoy a good awkward pausing, overemphasizing Perry dialogue just as much as the next 90s fan. But I'm pretty sure seeing Chandler running around in a Dharma Initiative jumper isn't going to fly. Whatever happens in the story, no matter how hard they try, everyone is going to be ripped out of the moment. But, truth be told, I still kind of want to see this happen just because now I'm imagining Chandler as a scruffy faced Other, "could Richard be any younger?" His character is called George Hobbes, let's hope he's the smoke monster.
In other Lost news Popular Mechanics grabbed a Professor of Egyptology at Brown and quizzed him about the scribblings on the Smoke Monsters wall from this week's episode. Of course there isn't just one answer, because it's Lost. But they do bring up some interesting insight to whether the smoke monster is Apep, the god of evil or Anubis, relating to the afterlife. Yes, the four-toed statue does factor in at some point.
[via Zap2it]