It's an old chestnut among comic book fans that the San Diego Comic-Con has paradoxically ceased to be about comics. Hollywood juggernauts like Twilight, Avatar, and The Avengers have eclipsed the funny books in years past, leading some comic fans to grouse that they've become strangers at their own party.
This isn't exactly a fair criticism — throngs of famous and upcoming comic creators will descend upon San Diego next Wednesday — but it's undeniable that movies have bogarted the buzz at Comic-Con as of late. Luckily for those comic fans who feel like they've been exiled to the moldy corners of SDCC's proverbial longbox, there are some early signs that comic books could wrest the limelight away from film.
Let's be honest, Comic-Con 2010 was a dud year for comic book news. Again, this isn't a knock on the caliber of the talent who attended (one my favorite memories from last year was working and casually listening to the Berkeley Breathed panel, only to have the Bloom County cartoonist bust out some awesomely deranged cartoons Bill Watterson used to send him). And yes, movies based on comics like Thor, Scott Pilgrim Vs. The World, and The Walking Dead got convention-goers hot and bothered, but moving picture was still the belle of the ball.
It didn't help that no comic announcement could compete with the Tinseltown orgy going down in Hall H. For example, those hoping that Marvel would announce reprints of Neil Gaiman and Alan Moore's runs on Marvelman/Miracleman went home disappointed.
G/O Media may get a commission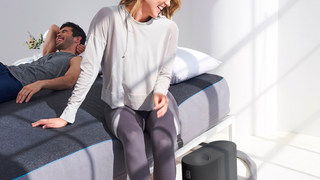 Eight Sleep Pod Cover
But comic books' off year was nothing compared to the tumble that some of SDCC 2010's biggest films experienced post-Con. Films like Tron Legacy and Green Lantern tantalized conventionauts but eventually tripped up critically and financially. Even 2010's critical darling Scott Pilgrim saw its fuzzy post-Con glow (and promise of a boffo box office) evaporate somewhere around the Gaslamp Quarter.
So what movies are on deck this year? Do-no-wrong franchises like The Dark Knight Rises and Man of Steel are currently filming and not attending (and Steel director Zack Snyder may be a little leery of a Con appearance after the drubbing Sucker Punch received). The Avengers, which is also presently in production, doesn't have a Hall H panel but instead has some shadowy promotion planned.
Steven Spielberg and Francis Ford Coppola are coming, but the former's dropping by to assuage fans that his CG adaptation of a Belgian boy adventurer isn't The Polar Express redux, whereas the latter director — in what's sure to be one of Comic-Con's stranger panels — is bringing Baltimore lo-fi noise master Dan Deacon (the "Drinking Out Of Cups" dude) to perform some songs from his new horror movie Twixt. Yes, there's Twilight and The Amazing Spider-Man, but nothing like the orgiastic blurt of Thor-Captain-America-Green Lantern-Harry-Potter-Avengers-Cowboys-and-Aliens that was Comic Con 2010's Saturday.
My colleague Charlie Jane Anders has pointed out that TV shows like Doctor Who and Game of Thrones will be SDCC 2011's big winners. After learning from the doldrums of 2010, comics too are poised to bring the brouhaha in 2011. Here are some indicators:
Event Comics: Last year saw the Big Two comic publishers in the middle of fuzzily defined initiatives (Brightest Day for DC and Heroic Age for Marvel) that focused on a loose web of side plots. This year, Comic-Con falls smack dab in the middle of the Big Two's summer mega-events, DC's Flashpoint and Marvel's Fear Itself, which do boffo sales and are the agenda setters for each publisher's superhero line. Furthermore, Marvel's revamping their X-Men line with the miniseries Schism. These consequence-laden miniseries could do a lot to pique fan interest.
The DC Overhaul: As many of you know, DC Comics is drastically relaunching their entire superhero line come September. Consequently, the publisher's hosting a panel every day devoted this to overhaul. This move isn't without its detractors — heck, some folks have decided to protest the superheroes' new costumes. San Diego could be a litmus test to see how fans take to these new changes, and some controversy could allow comics coverage to rise above the din.
Better Real Estate: This year, Frank Miller and Joss Whedon are promoting comics in the Indigo Ballroom, a space where shows like Archer, Community, and The Venture Bros. are presenting throughout the week. Miller's there for his "Not Batman versus Not Osama bin Laden" book Holy Terror, and Whedon's talking up Buffy the Vampire Slayer Season 9 for Dark Horse Comics. (Also, Stan Lee's promoting some project alongside Japanese heavy metal artist Yoshiki in the Indigo Ballroom, which could be more befuddling than that the Coppola/Deacon panel.)
Tr!ckster: Some folks within the comic industry (presumably) got tired of being overshadowed at their own fete and started Tr!ckster, a bar/gallery/pop-up shop that showcases the work of the gobsmacking amount of talent on hand. It's free to attend, and a rival show right across the street from Comic-Con has the potential to drum up some underdog buzz.
Indeed, the strait between the Scylla of Twilight on Thursday and the Charybids of Glee on Sunday will be a bit wider for comic publishers to navigate in 2011. Maybe they'll get around to announcing those goddamn Marvelman trades this year. One can only hope.