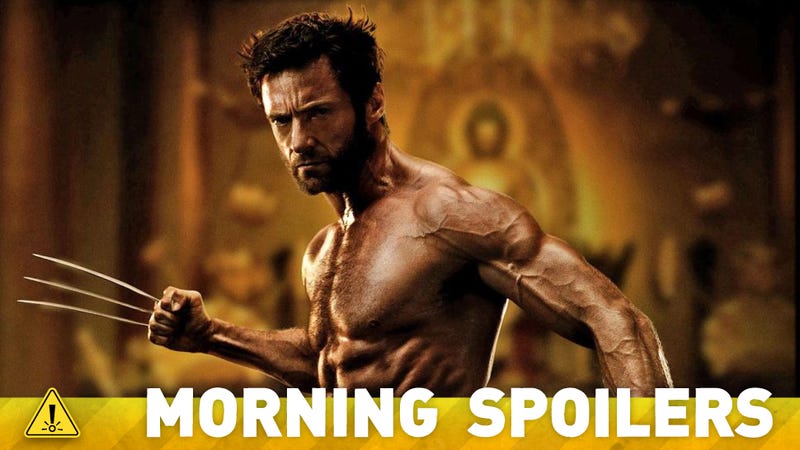 Morning Spoilers
If there's news about upcoming movies and television you're not supposed to know, you'll find it in here.
Director James Mangold explains why The Wolverine will make you give a shit about superheroes again. Henry Cavill explains just who Kal-El is in Man of Steel. Check out the latest clips of apocalyptic comedies This Is The End and Rapture-palooza. Plus hints for what True Blood has in store. Gear up for spoilers!
Top image from The Wolverine.
The Wolverine
Director James Mangold offers this lengthy explanation as to why he wanted this to be different from any previous superhero movie, and why that starts with Wolverine as a character:
To me, what was most interesting about his character is this concept of his immortality and his healing. The fact that there's a kind of exhaustion that sets in when you're here forever, when you lose everyone you love. What I wrote when I met with Fox in the back of my script were like six or seven words, which were "Everyone I love will die." But I felt the story I wanted to tell was about a man who in a way felt cursed and that everyone he had ever cared about in the world, whether it be the people he fought with as part of the X-Men, his wife, or others, had perished, and that the curse… I mean Isaac Asimov's Bicentennial Man speaks to it beautifully in a different way, but this idea that we all kind of yearn or wish for immortality, but the curse of actually having to be on the Earth like a god forever is its own purgatory, its own hell, which is to have to see everything you love go away, and have to keep reconnecting and re-finding inspiration.

And to me finding Logan in a place where his tank was empty, and that the man who killed his wife, that it's like there's a really interesting place to come in and find him. What the journey to Japan would then be if we could pick him up there. That's what I was most interested in. It also spoke to me in terms of influences I thought, ideas I thought. I love comic books. Since I was a kid, I've collected them. But I'm bored with the cutout of what the comic book movie is and I was going, If I was going to do this, I was thinking to myself, I really wanted to make more of a character-based film, rather than will Earth be destroyed, will the Moon be destroyed, will a stadium be destroyed, will a city be destroyed. It's all kind of the same movie over and over again with some giant villain. To me, the idea of exploring the world of gods, which is what superheroes really are, mutants, superheroes are all in a sense touched people, bigger than people, immortal people that what's most interesting is to explore that and still be rooting for who they are, what they are and give a shit.

To me, any sequence in the arms race between movies of spectacle, the one way you're going to be more spectacular the next film is if the audience gives a shit.
There's still a ton more at the link. [Collider]
In a separate interview, producer Hutch Parker says they were still figuring out the third act of this movie after production had started, but it was no big deal:
The third act is evolving, but really from a logistical point of view only. It's not a question of, "What is." And by the way, I worked on plenty of other movies where it really is evolving, where you really are rubbing your hands together trying to figure out, Oh my God, we better solve this soon. In this case, it's really not the case. It's more an evolution in the set that we've designed for the third act and how that changes and impacts the dramatics and the physical action we think in pretty exciting ways.
[Collider again]
---
Man of Steel
Star Henry Cavill explains the movie's take on Superman:
Our intention is to make an actual Superman, as much as you can about a guy who can fly. That myth is fantastic and colorful with elements of science fiction. But also, there is a story about the character and the human element that is most important. Kal-El is different from other people because he is an alien. That makes him feel lonely and distressed, almost petrified. Growing up being so very different and not knowing where he comes from or who he really is should be scary, and we wanted to explore the difficulties that he was going through in various situations.
And he also explains how he approached Superman's personality:
My influences for the modernization of the character and his psychology were comic-books Death of Superman, Superman Returns and The Red Son (which assume that Superman fell into the Soviet Union and was growing there), because they are different facets of the character you already know. It is as if we dissected the different characteristics of your personality.... It was not my plan to bring something different or new and leave a mark, but represent as closely as possible and to do the role justice to a new generation and a new historical context. I have never thought, "I'll do this to make it different." Certainly not. There is a lot of pressure from fans who want to see their hero depicted in a great story.
At the link, you can check out the full transcript of the interview, with originally appeared in Argentina's Viva Magazine. [HenryCavill.org]
Director Zack Snyder sat down with Canada's Breakfast Television to discuss why he took on the job:
Superman, I'm a bit of a fan so having the opportunity to work on Superman is a little bit of a dream come true. [It was] super exciting, a little bit of pressure but really fun.

With Christopher Nolan serving as producer and helping develop the story, do you think people should compare Man of Steel to his work on The Dark Knight trilogy?
Only in that it's a modern way in looking at the characters. Everyone's used to Superman in a way, maybe in your mind you say, 'I know exactly what Superman is.' We were able to say [with Man of Steel], what about this way of looking at him? We tried to make him more modern but it's hard to talk about him that way, in those terms. Everyone asks 'Oh, did you make him more modern' but what does that mean? We just tried to make him cool.
---
X-Men: Days of Future Past
Young Professor Charles Xavier actor James McAvoy discusses the upcoming film:
"I'm excited about the 70s. I'm excited about my costumes, which are fucking awesome. He's on his way to becoming Patrick Stewart, but he's not quite there yet. The '70s costumes are hilarious , they're quite psychedelic, which is great... Hugh [Jackman]'s got a big part. You throw Hugh Jackman in there and he comes with so much rage. I'm really looking forward to working with him. He'd better [frick]ing bring it. I'm excited to work with McKellen too. It's working off what we set up in the first 'new' one. The relationship between Charles and Erik is being explored in the future and in the past."
The original Empire story also reportedly suggests that Wolverine time travels in this movie, which means he either joins or replaces Ellen Page's Kitty Pryde, who did the time traveling in the original story. But we don't have the exact quote on that last bit, so I wouldn't read too much into that. [Empire Magazine via Comic Book Movie]
---
Pacific Rim
Here's the latest TV spot.
---
Transformers 4
Comedian T.J. Miller, whose credits include everything from Cloverfield to How to Train Your Dragon, has reportedly joined the cast as "a blue-collar mechanic who is a longtime friend of [Mark] Wahlberg's character." [The Wrap]
---
World War Z
Here's a bunch of banners for Brad Pitt and Quantum of Solace director Marc Forster's zombie movie. [First Showing]
---
This Is The End
Here's the latest restricted trailer for Seth Rogen and James Franco's apocalypse movie, in which they and a bunch of other celebrities play themselves as the world crumbles around them.
---
Rapture-palooza
And here's a clip from another apocalyptic comedy, this one starring Anna Kendrick, Criag Robinson, Rob Corddry, and Ken Jeong.
---
300: Rise of an Empire
Casino Royale star Eva Green discusses her role in the 300 followup:
I've never done an action film before and I've always dreamed of sword fighting and kicking ass… just being able to vent all that rage is amazing. So this was a great opportunity, plus Artemesia is a fabulous character… It's very hard today to find strong roles for women and Artemesia is the strongest, toughest, bravest character I've ever played.

As for the preparation, I trained four hours a day with a group of stunt men from L.A. for three months before we began shooting. And then I continued training and sword fighting while we were shooting, luckily just on weekends. I'm not the most coordinated person so it was like learning dance steps while swinging two huge swords….It was extremely liberating and empowering!
---
True Blood
Executive producer Brian Buckner drops some hints for the upcoming season six, starting with the question of whether Bill is a god now:
"We prefer prophet. Bill's more than just vampire and has powers we've never seen a vampire have. Bill and Sookie are not going to get on so hot. But their not getting on is kind of awesome... Warlow is the oldest vampire we've met. Killing the Stackhouses - that was nothin'!... [Sookie is] looking to date somebody with whom she has more in common [than with Eric]."
[TV Guide]
Here are HBO's official descriptions for the sixth season's first three episodes, which are set to air June 16, June 23, and June 30:
"Who Are You, Really?"
In the wake of Bill's (Stephen Moyer) blood-soaked reincarnation, Sookie (Anna Paquin), Eric (Alexander Skarsgård), Jason (Ryan Kwanten), Jessica (Deborah Ann Woll), Tara (Rutina Wesley), Pam (Kristin Bauer van Straten) and Nora (Lucy Griffiths) flee the Authority compound as Sam (Sam Trammell), Luna (Janina Gavankar) and Emma (Chloe Noelle) dodge swarming guards. Now packmaster, Alcide (Joe Manganiello) discovers that the job comes with unsavory side dishes, but other major perks. In Bon Temps, Andy (Chris Bauer) deals with parenting four newborn human-faerie hybrids. Meanwhile, Louisiana Governor Truman Burrell (Arliss Howard) vows open season on vampires. Jessica returns to Compton Place as Jason hitches a ride with an eerie stranger.

"The Sun"
A long-lost relative reveals himself to Jason and Sookie. After Tara is victimized by a new government weapon, Eric takes matters into his own hands in an effort to thwart Burrell's anti-vampire initiatives. On the road to work, Sookie is drawn to a handsome stranger who shares her faerie abilities. Sam is unnerved by supernatural-rights zealot Nicole (Jurnee Smollett-Bell), and is confronted by Alcide and Martha (Dale Dickey) about Emma's future. Bill contemplates the scope of his heightened powers.

"You're No Good
Irate over Burrell's blatant aggression towards vampires, Eric takes matters into his own hands. After dangerously testing the limits of his powers, Bill enlists a TruBlood innovator to synthesize a new type of blood – but has difficulty finding the right donor. Sookie begins to learn why Warlow is after her. Sam receives unexpected help from Nicole and her Vampire Unity Society (V.U.S.) associates. Steve Newlin (Michael McMillian) finds his past ideals turning into a current nightmare.
[KSiteTV]
---
Revolution
Here's the promo for this coming Monday's first season finale, "The Dark Tower."
---
Defiance
Here are descriptions for episodes seven through twelve, along with their airdates:
1.07 "Good Bye Blue Sky" – June 3, 2013
When the area is hit by a deadly Razor Rain storm, the residents of Defiance must bolt for cover and stay indoors, where they discover hidden truths about themselves and their fellows.

1.08 "I Just Wasn't Made for These Times" – June 10, 2013
Following the big storm, Nolan and Tommy find an American astronaut who has been in an induced sleep for the past several decades.

1.09 "If I Ever Leave This World Alive" – June 17, 2013
A deadly plague threatens the town; racial tensions rise when the Irathients, who are immune to the virus, are quarantined.

1.10 "The Bride Wore Black" – June 24, 2013
The town of Defiance is shocked when the remains of a leading businessman who went missing almost six years ago, are discovered hidden in the walls of the NeedWant.

1.11 "Past Is Prologue" – July 1, 2013
Amanda's mayoral campaign is threatened when Nolan is involved in an accident on the eve of the election, prompting the town to question Amanda's decision to appoint him as Lawkeeper.

1.12 "Everything Is Broken" – July 8, 2013
The citizens of Defiance prepare to cast their votes for mayor; Nolan's past violently rears its head; Irisa must decide whether or not to embrace her destiny.
---
Additional reporting by Amanda Yesilbas and Charlie Jane Anders.