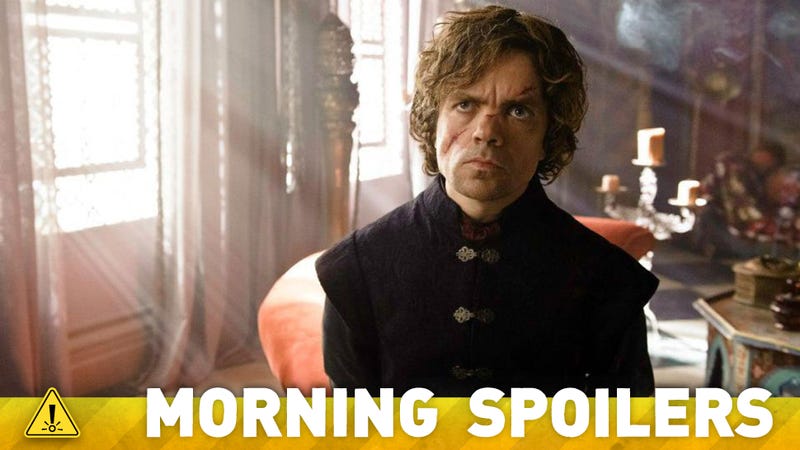 Morning Spoilers
If there's news about upcoming movies and television you're not supposed to know, you'll find it in here.
Damon Lindelof hints at the deeper meaning of the Star Trek sequel's title. Check out an new image of Man of Steel's Superman and Lois Lane. James McAvoy hints at Professor X's new arc, and we discover which X-Men won't be returning. Plus Walking Dead, Game of Thrones, Arrow, and more! Prepare for spoilers!
Top image from Game of Thrones.
Star Trek Into Darkness
Co-writer Damon Lindelof discusses the story arc of the sequel:
"If the first movie was about meeting and introductions, this movie is about becoming a family. The title of the movie is not just about the mission that the Enterprise is going on but what happens when you get to know each other a little better and the hurdles you must jump over in order to truly become family."
He also explains why the movie's general secrecy is important to the actual viewing experience, which definitely includes the lingering question of whether Benedict Cumberbatch's villain is really named John Harrison:
"The audience needs to have the same experience that the crew is having. You're Kirk, you're Spock, you're McCoy, so if they don't know who the bad guy is going to be in the movie, then you shouldn't know. It's not just keeping the secret for secrecy's sake. It's not giving the audience information that the characters don't have."
Star Wars: Episode VII
This seems super dubious, but there's a report going around saying that Billy Dee Williams revealed he had been offered a return appearance as Lando Calrissian, and that he's currently considering it. While Williams is probably the next most obvious cast member to return after the main three of Mark Hamill, Carrie Fisher, and Harrison Ford, this seems shaky since Williams went on record as recently as last week saying he hadn't been contacted. So, while I suppose a lot can change in a week, I'd still take this one with a generous heaping of salt. [Film Buff Online]
Man of Steel
Here's a high-resolution look at the new Total Film magazine cover featuring Henry Cavill as Superman and Amy Adams as Lois Lane.
And here's Cavill on what kind of Superman he plays in Zack Snyder's film:
"This is a Superman for a modern age. It's not betraying anything that Superman is, but it is grounding everything in reality. It's the story of this incredible being who can do incredible things, but whom we can associate with. Because he's gone through troubling stuff and had to make tough choices."
He also discusses his research into previous incarnations of the character:
"I managed to piece together this character, maintaining that baseline and having all the differences and nuances that our script adds, [But] this is our own thing. Stand-alone. It's about Superman, but we're not copying from any one comic in particular. And that's a good thing, because it's an original story."
[Total Film via Comic Book Movie]
X-Men: Days of the Future Past
Star James McAvoy discusses what to expect next from Professor Charles Xavier's story:
"I think it's going to be quite a dark journey compared to the caddish, almost playboy character that we turned him into in the first movie. I think it will be going through a darker place to ultimately get a sorted Professor X that we're used to seeing come the third movie. This movie might be a little bit more of a passing through the crucible for him... It's going to be a humongous cast. It's going to be like the cast of the beach scenes in Saving Private Ryan but everyone's a mutant and everyone you've seen in other movies before."
The full interview with McAvoy is below. [ShortList.com]
All that said, it seems the cast isn't quite as humongous as McAvoy thinks — he mentioned Alan Cumming as one of the returning actors, but the Nightcrawler actor has since denied it:
"No, they haven't [asked me to return]. Someone asked me that the other day and I said no. I know the one that's coming up shoots this Spring, but I wouldn't be available anyways. I dont think they have. I was gonna meet my manager for dinner later, I was gonna ask him, but no, I'm sure they would've told me, had they approached."
The Amazing Spider-Man 2
Here's a set video from the recent filming in New York City featuring both Emma Stone as Gwen Stacy and Shailene Woodley as Mary-Jane Watson.
Oblivion
Here's a photo of one of the vehicles featured in Tom Cruise and Tron Legacy director Joseph Kosinski's post-apocalyptic film. The photo is from a display of the vehicles and costumes at the current South by Southwest festival. Go here to see the rest. [Coming Soon]
Kick-Ass 2
Jim Carrey discusses the backstory of his character, Mafia enforcer-turned-superhero Colonel Stars:
"It's going to be fun. It's different for me. They called me up and said we want you to play this ex-Mafia enforcer, Sam DeStefano style. So I looked at myself in the mirror and went 'okay, might have to do some work'. I got my own makeup guys together and we just started experimenting and it's amazing how little you have to do to completely change your personality. We came up with a guy that no one is going to recognize as me. It's so far away from anything that you've seen. It's really fun."
[Fandango via Comic Book Movie]
Oz the Great and Powerful 2
Since a sequel to a prequel to the Wizard of Oz is getting dangerous close to simply being The Wizard of Oz, producer Joe Roth took time to clarify that the next film "would absolutely not" feature Dorothy. Sequel screenwriter Mitchell Kapner adds:
"It's 20 years before Dorothy arrives. A lot can happen in that time."
The Adventures of Tintin 2
Steven Spielberg, who directed the first film, offers this update on the sequel:
"Peter Jackson is directing the next one, I'm producing. We have a script and we're going to start performance capture probably at the end of this year. Don't hold me to it, but we're hoping the film will come out around Christmas-time in 2015. We know which books we're making, we can't share that now but we're combining two books which were always intended to be combined by Herge."
He also intimates that "The Blue Lotus" will be part of the planned third film's story. [Times of India]
Game of Thrones
HBO has released some new info for the upcoming third season, including a general synopsis of what to expect:
As Blackwater Bay cools, the victors consolidate their power and rebuild King's Landing. But new challengers for the Iron Throne rise from the most unexpected places. Characters old and new must navigate the demands of family, honor, ambition, love and - above all - survival, as the Westeros civil war rages into autumn. Based on the bestselling fantasy book series by George R.R. Martin, GAME OF THRONES is an epic story of treachery and nobility set on the continent of Westeros, where summers and winters can last years, and only the lust for power is eternal. The Emmy(R)- and Golden Globe-winning series returns for its ten-episode third season SUNDAY, MARCH 31 (9:00-10:00 p.m. ET/PT), exclusively on HBO, followed by other episodes on subsequent Sundays at the same time. As season three begins, the Lannisters hold absolute dominion over King's Landing after repelling Stannis Baratheon's forces. Yet Robb Stark, King in the North, still controls much of the South as well, and has yet to lose a battle. In the Far North, Mance Rayder has united the wildlings into the largest army Westeros has ever seen. Only the Night's Watch stands between him and the Seven Kingdoms, but nobody knows what happened to its Lord Commander and the force he led beyond the Wall. Across the Narrow Sea, Daenerys Targaryen - reunited with her three growing dragons - ventures into Slaver's Bay in search of ships to take her home and allies to conquer it.
And here's the description for the third season premiere, "Valar Dohaeris", which airs March 31:
Jon is brought before Mance Rayder, the King Beyond the Wall, while the Night's Watch survivors retreat south. In King's Landing, Tyrion asks for his reward. Littlefinger offers Sansa a way out. Cersei hosts a dinner for the royal family. Daenerys sails into Slaver's Bay.
You can read the whole thing at the link. [Coming Soon]
True Blood
The show is reportedly looking to cast "a sexy, dangerous vampire named Violet [who] will be part of a love triangle in seasons 6 & 7." [SpoilerTV]
The Walking Dead
Comics creator Robert Kirkman discusses Andrea's increasingly precarious position in Woodbury:
She's really in a tough situation in that her relationship with the Governor — from her perspective — has completely deteriorated; she's starting to see the cracks forming. She does have a bit of an advantage in that they have this relationship... and that is allowing her to work against him and to try save the people of Woodbury.

Andrea questions what she's doing in Woodbury and learns the Governor assaulted Maggie. Why doesn't she take Hershel up on his offer to rejoin the group?

It's a very difficult decision for her to make but she is invested in the idea of Woodbury. Despite everything that the Governor has done, she sees that this community has value and has good people. As much as she may want to save the lives of the people in the prison, it is equally important to her to not watch these poor people be marched into war for next to no reason. She's very invested in keeping those people safe. That's what's keeping her there.

Andrea also doesn't tell Milton that the Governor completely dismissed her attempt at peace and only wants Rick's surrender. Why?

She doesn't know who to trust at this point. She likes Milton (Dallas Roberts) and could possibly see him as an ally — but she's still struggling with what to do in the situation, and still figuring things out on her own. She's going to keep things pretty close to the vest at this point.
There's more at the link. [Live Feed]
Person of Interest
Here's the description for tonight's episode, "All In":
When an elderly gambler's number comes up, Reese and Finch head to Atlantic City to delve beneath the surface of their POI's seemingly ordinary life for answers. In New York, Carter's crusade to clear a fellow detective's name brings her perilously close to discovering the remaining HR faction within the department.
Revolution
Here's a synopsis for episode twelve, "Ghosts":
A final heroic act by one of their own saves Charlie and the gang; Miles tries to recruit a former comrade with savage skills; Rachel searches for a power source.
Grimm
Here's the description for the seventeenth episode, "One Angry Fuchsbau":
Rosalee asks Hank, Nick and Monroe for help when a defense attorney tries to use Wesen wiles to overturn a murder case; memories rush back to Juliette when she returns to the trailer.
Once Upon a Time
Here's a synopsis for episode seventeen, "Welcome to Storybrooke", which airs March 17:
REGINA, OUT FOR REVENGE, VOWS TO KILL MARY MARGARET, AND DURING THE EARLY DAYS OF THE CURSE, A FATHER AND SON FIND THEIR WAY INTO A SUPPOSEDLY UNDETECTABLE STORYBROOKE, ON ABC'S "ONCE UPON A TIME" — Jamie Dornan Guest Stars as Sheriff Graham — Emma, David and Mr. Gold must protect Mary Margaret against Regina, who is out for revenge and has made it her mission to kill Mary; and Henry, fed up with all of the feuding, devises a plan to put an end to magic. Meanwhile, Regina discovers that a father and son have somehow found their way into her allegedly undetectable town as she and the fairytale characters deal with the effects of the newly cast curse 28 years prior.
Lana Parilla discusses the fallout for Regina after Mary Margaret killed Cora:
"Regina is just a mess right now. She really is just a mess. Now she has two reasons to hate Snow White. The first one was because she broke a promise and Danny was killed because of it. And now, she has a hand in her mother's death. So this is just devastating for Regina on so many levels. I think that road to redemption is now far behind her."
And co-creator Edward Kitsis discusses the fallout for Mary Margaret herself:
"It complicates the plans in that David warned her, 'You won't be able to live with yourself' — and that is actually the case. What she's looking for is, how do I lighten my heart? How do I restore it? David's job is going to be to help her, but I do think he believes the best way is to go home and rebuild what they had."
There's more at the link. [TV Line]
Arrow
Executive producer Andrew Kreisberg discusses how Colton Hayes's guest character Roy Harper — better known in the comics as the sidekick Speedy and/or superhero Red Arrow — fits the show's larger story:
We had felt that in Thea, especially in the first half of the season, we had done a lot with her being the bratty sister and her sort of being trapped in the house with mom and we really wanted to get her out of there and we thought, 'Oh, since she's going to work at CNRI, maybe she meets this kid who's down on his luck and he's sort of a criminal, and I can't remember which of us said that it should be Roy Harper.' So we sort of backed into it. Our Roy Harper is not quite the Roy Harper everyone knows from the comic books. When we meet him, he's really a gangbanger, he's a thug and a criminal. Even though deep down he's got potential, what you'll be seeing over the back half of this season is that he has a very profound interaction with The Arrow that will impact his life choices moving forward and will impact his relationship with Thea.
He also explains how Manu Bennett's performance has shaped the show's portrayal of Slade Wilson:
Well, it's funny because I'm a huge fan of Spartacus and truth be told, Manu was hired because we knew he was a badass and we needed someone to play Deathstroke who is the biggest badass in the DC Universe. But Manu himself is such a sweet, funny guy. That's really changed our conception of the character and allowed us to develop this fun, brotherly banter with Oliver and Slade on the island. It's really become much more of a Han Solo, Luke Skywalker relationship than what we were actually envisioning. It's a great example of someone being hired and providing far more than what any of us were expecting. Writing Slade right now, he's my new favorite character.
You can watch the entire video interview with Kreisberg below, as well as some additional interviews with fellow executive producers Marc Guggenheim and Greg Berlanti and stars Stephen Amell and David Ramsey. [Comic Book Movie]
Being Human (US)
Here's a promo and a sneak peek for episode ten, "Those About To Rot."
Additional reporting by Amanda Yesilbas and Charlie Jane Anders.