Spies are everywhere in pop culture right now, including tons of spy movies and TV shows. So why are we so obsessed with secret-agent madness? Is it nostalgia, or a reflection of new, real-life preoccupations? Here are all the reasons why 2015 is the year of the spy.
So many movies
Spies, secret agents, covert-affairs operatives, people with their fingers all over everyone's secrets, CIA desk workers who happen to be needed for emergency cloak-and-dagger situations ... these are themes we'll be seeing throughout 2015, a year when surveillance expose Citizenfour stands a damn good chance of picking up Best Documentary at the Oscars later this month.
This Friday sees the release of Matthew Vaughn's slick-looking Kingsman: The Secret Service, in which a ne'er-do-well is enticed to follow in the footsteps of his secret-agent father; it's based on the Mark Millar comic book, and the can't-fuck-with-it cast includes Colin Firth, Samuel L. Jackson, Mark Strong (fun fact: he'll also play a black-ops agent in the 2016 Sacha Baron Cohen comedy Grimsby), and Michael Caine. And an umbrella weapon.
In the comedy category, the big one looks to be Spy, the latest collaboration between director Paul Feig and star Melissa McCarthy. Initially described as a "female James Bond comedy," it's the tale of a CIA analyst who's tapped to go undercover to discover the location of a rogue nuke when the identities of all the agency's top spies (Jude Law, Jason Statham) are compromised. The red-band trailer is hilarious (limp-dick unicorn joke ahoy!) We're intrigued. (May 22).
G/O Media may get a commission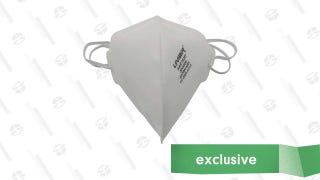 NIOSH CDC-Certified N95 Masks (10-Pack)
Later this year (August 15), style warrior Guy Ritchie releases his 1960s-set comedy The Man From U.N.C.L.E., based on the light-hearted vintage TV series; it also revolves around that old standby in evil-villain planetary destruction, nuclear weapons. Henry Cavill and Armie Hammer play the U.N.C.L.E. agents (the acronym stands for United Network Command for Law and Enforcement, in addition to just sounding cool).
Taking cinematic spycraft a bit more seriously are a pair of huge franchise entries: the 24th James Bond entry Spectre, from Skyfall director Sam Mendes and with Christoph Waltz as the villain (Nov. 6); and Christopher McQuarrie's Mission: Impossible 5, with Tom Cruise and Jeremy Renner (July 31). Plots are sketchy thus far, but stunts galore are obviously a given for both.
Elsewhere at the movies, there'll be Steven Spielberg's Tom Hanks-starring "Untitled Cold War Spy Thriller" (it comes out Oct. 16, so there's time to whip up a juicy title; some sources have it as St. James Place). Its Imdb thumbnail is "an American lawyer is recruited by the CIA during the Cold War to help rescue a pilot detained in the Soviet Union," and it's based on the real-life saga of CIA pilot Francis Gary Powers.
Plus, there's the sequel to White-House-go-boom action thriller Olympus Has Fallen, London Has Fallen, which sends President Aaron Eckhart and Secret Service head Gerard Butler across the pond to tangle with another round of international terrorists (Oct. 2); and The Gunman, which stars Sean Penn as a grizzled Special Forces operative who's trying to clear his name so he can get out of the spy game. (Obviously, some very serious complications arise with this well-meaning plan.) Idris Elba, Javier Bardem, and Ray Winstone round out the bangin' cast (March 20).
Spy photo via the Hollywood Reporter.
So much TV
Earlier this week, it was announced that SundanceTV would co-produce "the first original German-language drama ever to be broadcast on a U.S. TV network." And, surprise, it's about spies! Deutschland 83 is described thusly:
A coming-of-age story set against the real culture wars and political events of Germany in the 1980s. It follows Martin Rauch (Jonas Nay) a 24-year-old East Germany native who is sent to the west as an undercover spy for the Stasi foreign service. Hiding in plain sight in the West German army, he must gather the secrets of NATO military strategy.
The eight-part series will air on Germany later this year, with a U.S. airdate to be announced soon. It joins a robust array of espionage-themed television shows already on the air, or soon to return:
AMC's Revolutionary War drama, Turn: Washington's Spies (season two airs later this year)
FX's period drama about KGB spies, The Americans, now in its third season
FX's animated spy spoof, Archer, currently in its sixth season
CBS's spy-fi Person of Interest, now in its fourth season
Showtime's contemporary CIA drama Homeland, due to deliver its fifth season this fall
ABC's Marvel Cinematic Universe two-punch Agent Carter (now airing) and Agents of S.H.I.E.L.D. (season two picks up again March 3, trailer below)
the forthcoming CG-meets-live action reboot of Thunderbirds Are Go!, which premieres this spring on UK channel ITV.
So many spies
Which brings us to the inevitable question: WHY SO MANY SPIES EVERYWHERE? There are two reasons that carry equal weight. First of all, nostalgia. The Cold War era was stylish (exhibit A: Agent Carter's swoon-worthy ensembles), and its "good guys" and "bad guys" were clearly defined, especially by its pop culture. Spies can do a lot more wizardry with 21st century technology, but they were just cooler back in the 20th century.
Old-school touches, even in contemporary entertainment (like Kingsmen's umbrella gun!), are a reminder of those times.
And, duh: just look at the headlines. Spies and spy-themed scandals are everywhere, from revelations about the NSA spying on American citizens; the recently-revealed New York City Russian spy ring (a story awash in positively retro, movie-ready details ... like bag-swapping in public places); and countless stories involving surveillance (law enforcement can now watch you through your walls, thanks to cutting-edge radar devices), drones, omnipresent security cameras, and the like.
By its very nature, spying is inescapable, especially now that most of it is done not by sexy men and women in disguises, but by unblinking electronic devices. It's hard to wrap our minds around the cold, technological reality of spycraft, so instead we try to grapple with this brave new world by taking refuge in the glamorous, fascinating stories of spies going on missions and rappelling off buildings.
That's a win for those of us who want to rediscover our love for undercover derring-do, but also for everyone who wants to find sneaky ways to talk about the ways we're all being watched, all the time.