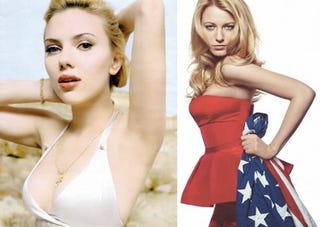 Alfonso Cuaron has to make a tough decision. His stranded in space film Gravity, with Robert Downey Jr., needs to find its female lead. And it's down to Scarlett Johansson or Blake Lively. But how to choose?
The Hollywood Reporter has released a little information on Gravity's main female character, which was originally set to be Angelina Jolie:
The movie's plot revolves around astronauts repairing the Hubble telescope who are hit with an avalanche of satellite junk. In a plot akin to "Cast Away," the surviving astronaut must fight her way back to Earth, where she hopes to reunite with her daughter.
While we're not sure either of these girls come across as "motherly," we're still into seeing either of them kick some element ass while in a space suit. Who would you pick?