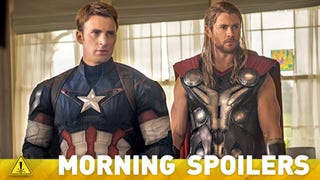 Morning Spoilers
If there's news about upcoming movies and television you're not supposed to know, you'll find it in here.
William Shatner and Roberto Orci respond to that Star Trek cameo rumor. Jeremy Renner hints once again that he could be headed to Captain America 3. Elsa and Emma will be good friends in Once Upon a Time. And the creators of SHIELD explain last Tuesday's big surprise. Spoilers now!
Top image: Avengers: Age of Ultron
Star Trek
This week, we heard that the latest script has an important cameo for William Shatner written into it. So of course Shatner's waded into it, penning this tweet:
Which led Roberto Orci to respond on Trek Movie with these comments:
love no win scenarios. In theoy, damned either way.
Not in my interest to confirm or deny anything because it limits my options while maintaining my integrity as a truth teller.
The movie is not the movie till it is in the theater. Until then, everything is a rumor.
Of all of these, we can absolutely agree with Orci on that last one. Since everything with these projects is kept under the lock and key, nothing is real until we actually see it. [Trek Movie, Slashfilm]
---
Interstellar
Here are some new images from Interstellar. More at the link. [Empire]
---
Avengers: Age of Ultron/Hawkeye/Captain America 3
Okay, let's do the Hawkeye dance again. First, Jeremy Renner said there was talk that he'd appear in Captain America 3. Then, directors Joe and Anthony Russo said that this was just confusion stemming from a cut scene from Captain America: The Winter Soldier. And now Renner's stirring the pot again, telling MTV:
"I'm happy to be the ensemble. I'm not scratching or clawing to do a solo movie by any means," Renner said. "I think he's a utility guy that can bounce around into other people's universes a little bit, especially like 'Cap 3.' "

That mention of the third "Captain America" movie, which is set for 2016, came with perhaps the biggest, most knowing wink I've seen in a while. Hawkeye's potential for a significant role in that film has been a hot topic of recent discussion, and it certainly seems like Renner is more than aware of that.
[MTV]
---
Transformers 5
Peter Cullen is really hoping that Michael Bay stays with the franchise, telling Cinema Blend:
I have a great deal of respect for him. He generates a great deal of excitement and energy. He's really a hands-on director. My son is a stunt man and worked in Chicago doing a lot of the driving sequences...he said he's a very, very diligent, hands-on guy. He creates a great deal of energy and puts everybody on their toes. I would certainly miss him. I think he's brilliant, his mind is unbelievable.

... Michael if you're [reading] this, I certainly hope you are coming back.
Cullen added that he's not in a position to know where the next film is headed, saying he "doesn't have access" access to that information. He did say that "certainly the excitement that it's generated of where it could possibly go is up to anybody to figure out." [Cinema Blend]
---
Crime of the Century
Gary Dauberman (Annabelle) has been added to the writers of Dan Trachtenberg's "time travel action heist film" Crime of the Century. [Slashfilm]
---
Breath of Bones
Andrew Adamson (two Chronicle of Narnia films) has been hired to direct the adaptation of the Dark Horse miniseries. The three-issue story was written by Steve Niles and Matt Santoro and its artist was Dave Wachter. Here's a short synopsis:
Bones is set during World War II and tells of a British plane that crashes into a Jewish village. The crash brings Nazi attention, forcing the villagers to defend themselves, with one rabbi and his grandson building a Golem creature and bringing him to monstrous life.
---
Batman v. Superman
The movie has been spotted filming in Detroit at the abandoned Michigan Central Station in Corktown. Last week, they were also caught filming explosions on the east side of the train station. Below are a few shots of the Michigan Central Station. More at the link. [Michigan Live]
---
Agents of SHIELD
I'm not sure if I totally believe that Lucy Lawless really will only appear in one episode, but this exchange at least hints that we're supposed to believe she's dead:
Going into the premiere, we knew Coulson would have to lean on some unsavory people to keep S.H.I.E.L.D. afloat, but then you basically kill them all off. Why did you decide to only use Lucy Lawless for one episode?

JED WHEDON: We wanted you to invest in the character and feel like this person was a real equal to Coulson. She definitely fit the bill on that front. Lucy has such a strength to her. We didn't want people to know what was going to happen. We wanted it to feel like a big deal.

It seemed like you were going to explore Isabelle being the late Victoria Hand's (Safrron Burrows) love interest from the comics.

Whedon: There were versions, but it started to be irresponsible if we addressed it to not address it with more weight and time and energy.

Maurissa Tancharoen: And then we would've been known as the people who killed off two lesbians on the show.
They also addressed Fitz's breakdown and whether we'd see the "real" Simmons again:
Tancharoen: We didn't want him to come out of that experience unscathed. He clearly suffered major trauma to his body. The lack of oxygen to his brain has to have consequences because that's how it is in real life.

Whedon: When he's down in that little pod, he told her how he felt about her and made a real sacrifice. We wanted it to be a real sacrifice.

Tancharoen: We wanted there to be a price. Basically, he in his own Fitz way had professed his love for her, and then he came out of that. How do you come out of that experience without any physical damage, there would still be probably a change to their relationship because the feelings are out in the open. But, of course, being the people that we are, we wanted to make it even more painful and compound it.

Will we see Simmons again other than as a figment of Fitz's imagination or is she off the team for good?

Whedon: We will see her. She will be seen, it's just that what does it mean? We can't really say what that means.
Iain De Caestecker also weighed in a bit about what's next in season 2, with the usual Marvel caveat that he can't say much:
As always with these kind of things we are completely sworn to secrecy, but what I can say is there's some really cool, cool stuff coming up for everyone with the show and with character-specific storylines. As always with this show, and what Marvel does so well, there are a lot of twists and turns. The show is essentially a lot darker this year. We've got a later time slot [Tuesdays at 9/8c] so it's a lot darker, which makes the danger a lot more real, but it also keeps a lot of the charm that is synonymous with the Marvel world. There are a lot of exciting things that come up.
[TV Line]
Chloe Bennnet points out that two season premieres function as a perfect way to track Skye's growth:
It was really weird to see the difference between the pilot and [episode] 201 — Skye is just completely different. She was this hippie, living in her van, against S.H.I.E.L.D. and everything it stands for, and then she's just a full-blown S.H.I.E.L.D. agent, dropping from the ceiling. But it's been really nice. I feel like I've grown with Skye, because season one really did feel like we were this ragtag group of actors — we didn't know each other, and we were really spending a lot of time on the plane together, and we really had the ups and downs of being on a season for the first time. Then we kind of grew together and had a little family. I'm really proud of it, too
And Jeffrey Bell explained what adding new characters does for the show:
What's fun about new people is, you can find new dynamics. Last year, Fitz and Simmons were one person — now they're not. Last year, there was a paternal thing between Coulson and Skye — that seems to be a little different now. Ward's now Hydra, so what's the relationship there? What's the deal with Simmons? We have all these characters and new relationships. That's really fun for the writers, to come up with new combinations and create new conflicts.
Here's a promo for episode 2.02, "Heavy Is the Head." [via Coming Soon]
---
The Walking Dead
Andrew Lincoln and Norman Reedus say that season five is action-packed and doesn't have the deep character moments (so far) of season four:
Lincoln: What we're doing is more action-packed. This is the first time we've picked up from a cliffhanger, so we don't need to explain anything. Let's just get on with it. And that was fun.

Reedus: There are a lot of different characters now and a lot of different personalities, so [the show] changes quite a bit. There are a lot of different flavors in the soup right now, which is great.

Lincoln: It's just a story that keeps moving forward because people die and new people come into the world and the world changes, so it is this constantly changing beast. It's difficult to say what the theme of this season is because we don't know. We haven't done it yet. We're in the middle of it. I can tell you some things about where I think Rick is, but that's about it.
They also summed up their characters positions as of season five:
TV Guide Magazine: So where do you think Rick is?

Lincoln: He's in the most powerful place he's ever been. He's incredibly uncompromising, and he's a dangerous man. Not in a vindictive, malicious way, but in a pragmatic way. Are you a problem? Then you must die.

Reedus: There's no seesawing as much.

Lincoln: No, the doubt is gone, which makes him incredibly dangerous.

TV Guide Magazine: What about Daryl?

Reedus: He's always getting little hints that it might be OK, and then they get taken away from him. The fire that's burning inside him is slowly going out. He's becoming more hardened and darker, which also makes him more fiercely loyal. You can only beat a dog so much with a stick before he bites you, and he keeps getting beaten with the stick, so I think he might snap.
[TV Guide]
Melissa McBride corroborated Reedus and Lincoln's statement that the more intimate stories have gone this season:
It's a whole other different kind of energy when we're all there together. It's just great to be among the big family again because you really do start to miss them if you're doing the smaller episodes and everybody else is doing the smaller episodes. Your time in between seeing them is a little sad gap, but I do appreciate the small episodes to really dig into the independent storyline and see the development of these characters. And to see the intimacy of both is kind of breathtaking to me. But, it's good to be back with the group too. It's a whole other energy.
She also talked in very vague terms about what Carol will do when she sees Rick again:
I can tell you that she is very certain with some of her feelings, very certain, and other feelings she has, she's got some mixed feelings. I think more than anything she's ready to be accountable in whatever way.
We've also got word that there will be a high death count this year. [TV Line]
---
Once Upon a Time
EPs Eddy Kitsis and Adam Horowitz talked a bit about what's in store for Regina this season:
Eddy: Well, I can tell you that we'll see Regina do her best attempt to melt ice! But we can also tell you it will not be against Elsa, who is not a villain.

... Adam: Yes, it's Regina facing herself and the years of growth we've seen in her character since the pilot that are now being put to the test by circumstances. She's going to have to look inward and fight her own demons.
There was also a bit more revealed about Elsa and Emma's heart-to-heart:
Eddy: I can tell you that they will have a heart to heart and bond this season. I think one of the things we love so much, and the reason we're excited about bringing Elsa to Once Upon a Time is because we felt like she had so many similarities between herself and Emma. You know, they're two people who like to run away when they're feeling problems in their lives. And they're two people with magic who don't necessarily know how to control it, and who also never necessarily wanted magic. So for us, it was exploring growth. And I think the thing we loved most about Frozen was the friendship between the sisters.

... And so the first eleven episodes of this Frozen arc is really about that friendship. And not just theirs, but friendship in general. It's a really important thing to us. Obviously, Adam and I have been friends for over twenty years now and partners. So it really spoke to us. And you know, we're going to see Emma meet a new friend in Elsa.
More at the link. [Once Upon a Fans]
And the two of them have said about Sally Pressman's character that she's part of "a storyline that has never been introduced" and "Out of context, we could tell you her [character's] name, but it might confuse you. You'd be like, 'So…?'" [TV Line]
Here are a few teasers for the premiere on Sunday:
- Anna is delightfully funny, without try to be. Here are some exchanges between her and Elsa.

Anna about her mother's wedding: I'll spill something on it, maybe only clear beverages at the wedding.

Elsa: You need to be planning your wedding. Anna: It's tomorrow. There's no planning to do, I've horribly miscalculated.

- If you wondered why Kristoff has shorter hair than he had in the movie, don't worry, that does get explained.

- The song Belle and Gold have their first dance to could not have been more perfect.

- Sven is as sassy as he was in the film.

- Regina makes a plan to get rid of the person who is standing in the way of her happiness but has a change of heart and comes up with another plan to get her happy ending.
---
Doctor Who
Here are some dialogue teasers from Saturday's "The Caretaker":
"He's a bit intense looking, did you see those eyebrows…did he wink at you?"

"Can I go in space?"

"Go and canoodle, Doctors orders"

"It's funny, you only really know what someone thinks of you when you know what lies they've told you"

"Yes John Smith's the name, but you know here's the thing, most people just call me…the Doctor"
More at the link. [SpoilerTV]
---
Outlander
The show's already prepping for season 2, casting Brianna Randall, Jamie and Claire's 20-year-old daughter. Bree, who was raised in Boston and calls Frank Randall "dad," she is described as "is smart, strong-minded, practical, funny and stunningly beautiful." [TV Line]
---
Sleepy Hollow
Lyndie Greenwood says that Jenny won't be a fan of new Sheriff Leena Reyes:
"Jenny doesn't remember her, so when she finds out Reyes was around [before], she feels extremely betrayed," the actress says. "She gets her guard up pretty quickly. She's not a fan."
[TV Line]
Go here for photos from episode 2.03, "Root of All Evil." [SpoilerTV]
Here's the synopsis for episode 2.04, "Go Where I Send Thee":
ICHABOD AND ABBIE ENCOUNTER A DEMONIC PIED PIPER ON AN ALL-NEW "SLEEPY HOLLOW" MONDAY, OCTOBER 13, ON FOX

Abbie and Crane's search for a missing Sleepy Hollow child reveals a creature akin to the Pied Piper, whose legacy with the child's family extends back to a centuries-old curse in the all-new "Go Where I Send Thee... " episode of SLEEPY HOLLOW airing Monday, Oct. 13 (9:00-10:00 PM ET/PT) on FOX. (SLH-203) (TV-14 L, V)

Cast: Tom Mison as Ichabod Crane; Nicole Beharie as Lt. Abbie Mills; Orlando Jones as Captain Frank Irving; Katia Winter as Katrina Crane; John Noble as Henry Parish, Lyndie Greenwood as Jenny Mills.
---
Arrow/Flash
CW President Mark Pedowitz hinted to AdWeek that there may be more spinoffs being floated this season:
"What you'll see embedded in 'Flash' and 'Arrow' is that we'll have the ability to test characters out. Is there room to grow them into the next show? I cannot tell you yet. There are discussions going on."
Could this include the long-rumored Suicide Squad spinoff? [Ad Week via Comic Book Resources]
---
Game of Thrones
Lena Headey, Dean-Charles Chapman, and Finn Jones have been spotted on set in Dubrovnik, which doubles as King's Landing. Looks like Cersei's still in her mourning dress. Plus this could be our first look at the Sparrows, the religious zealots that Cersei tries to make friends with. More at the link. [Dubrovniknet via Watchers on the Wall]
---
The Strain
Here's an inside look at Setrakian's Army:
---
Vampire Diaries
Here are photos from episode 6.02, "Yellow Ledbetter." [K Site TV]
---
Person of Interest
Here's a promo for 4.02, "Nautilus." [via SpoilerTV]
---
American Horror Story
Episode 4.07 will be called "Test of Strength." [SpoilerTV]
Here's a new teaser called "Two-Faced." [via SpoilerTV]
Additional reporting by Charlie Jane Anders and Abhimanyu Das