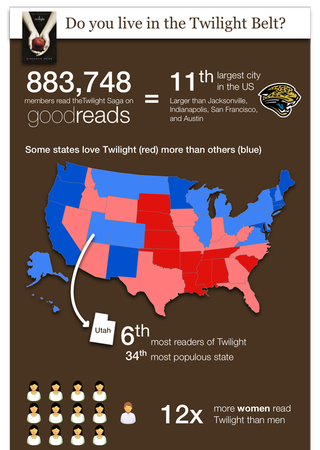 Book recommendation website Goodreads has noticed that — among the site's American users — those who were most enthusiastic about Twilight hail from the South and the Midwest. Explains the site's blog:
Reviews were mostly distributed according to population, with the notable exception of Utah. Utah is the 34th most populous state in the US, but it generates the 6th most reviews of Twilight. In terms of cities, Salt Lake City-the 125th largest city in the country-is second only to New York in number of Twilight reviews. Opinion on the book is split in the Beehive state, with the average rating a pedestrian 3.64.

Not surprisingly, the Twilight books also split along gender lines. Women were twelve times as likely as men to review Twilight on Goodreads — we have 573,797 ratings by women and only 46,554 by men. Women were also more likely to have liked the book, giving it an average rating of 3.77 stars, whereas men were, well, not so happy with it, rating it 2.94 stars.
Of course, this snapshot only takes into account the opinions of those readers who use Goodreads. For all I know, there could be an enclave of 100,000 denim-shorted Twi-hards living off the grid in Washington state, slamming back colloidal silver in hopes of making their skin Nosferatu shiny.