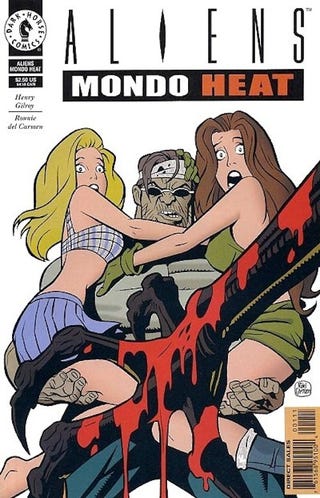 Before he went to work for Pixar, serving as a story artist on Finding Nemo, Ratatouille, WALL-E, and Up, del Carmen was one of the most dynamic artists working in comics. We'd like him back.
It's totally understandable. Pixar is one of the top five amazingest places in the world to work, especially if you're one of those creative types. The hours may be insane, but you get to work on some of the best films in the talkies era. And the cafeteria is reputed to be "totally wicked." So one can't hold it against storyboard artist Ronnie del Carmen that he doesn't do comics anymore. But when he was doing them...he was awesome.
Just look at his work on Dark Horse's 1996 one-shot, Aliens: Mondo Heat, which followed an interstellar exterminator who's gotta take care of both an Alien infestation and a pair of bouncy troublemakers:
Both muscular and sinewy, playful and confident, del Carmen has a smooth, animation-trained line that can nail the big action while selling the character. All of which, naturally, is why he found a place among Pixar's most valuable employees. And while not making Pixar films sing, he's an internationally recognized fine artist, exhibiting in cities around the world.
So, yeah, I get it. But that doesn't stop me from wanting to read a new Ronnie del Carmen comic book.
Now.