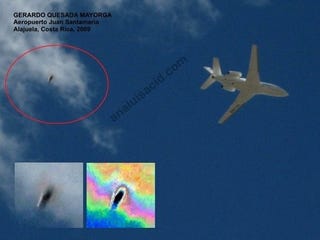 It seemed like it was just an ordinary day at the airport in Costa Rica, but apparently something else was flying among the airplanes. Could it be a UFO? Let's consider the evidence.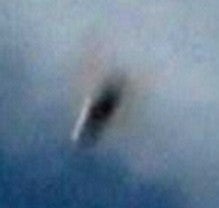 According to the folks over at Inexplicata:
The witness happened to be taking photos of aircraft taking off from the Juan Santamaría Airport in Alajuela, Costa Rica. When he downloaded the files to his computer, he noticed an interesting object among the clouds.
OK, so we have an "interesting object" that demonstrates the requisite blur of alienness. Also, that giant red circle around it also makes it seem totally Venusian or whatever.
Yup, I think the aliens are landing, and they're respecting our human custom of dropping down into airports rather than British grain fields.
via Inexplicata