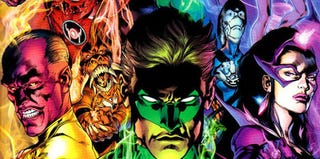 Last Wednesday saw the last shipment of new comics to American comic book stores before 2010, so how can there be new comics this week? (Never mind a major mainstream release)? We're glad you asked that question.
To begin with: welcome to Indy Comic Book Week. Even though Diamond Distributors aren't shipping new product to stores this week, a collection of small press creators have teamed with a collection of stores nationwide to offer some counterprogramming for the week, from scifi comedy What Planet Is This? to epic mouse fantasy (No, really) The Osward Chronicles. The entire list of books is available on the website, along with a list of participating stores. Go and check it out.
For everyone else, don't think that you're going to be completely devoid of new books. Marvel has a preview of their next big storyline, Origins of Siege, that'll bring you up to speed on recent events and the origins of some of their big name characters.
But DC trumps Marvel with the embargoed sixth issue of Blackest Night. For those following the DC series, you'll know that the last issue ended with a pretty big cliffhanger (SPOILER FOR THOSE READING IN TRADE: Oh, look: Superman, Wonder Woman and countless other DC superheroes are dead after all, and now they're working for the bad guy), so calling this issue "anticipated" is a slight understatement. Here's hoping it offers up more surprises and things going very wrong for the good guys.
Next week: Back to normal, lots of new books and the start of Marvel's Siege, just to make sure that the real Avengers are back together in time for their movie...