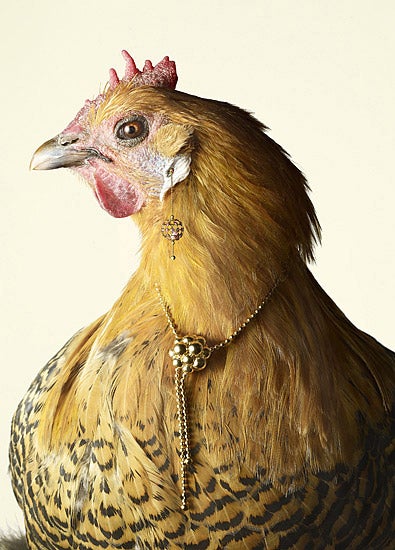 Millions of years ago, the mighty dinosaur ancestors of chickens ruled the Earth, and in Peter Lippman's photo series Luxury Chicks, these birds are back on top, and they celebrate their superiority by donning designer gems made by human hands.
Lippman created this series for Marie Claire magazine to showcase jewelry from Cartier, Van Cleef & Arpels, Buccellati, and Piaget/Bouchero. Beyond showing off the sparkly things in a novel way, Lippman's photos infuse each chicken with a unique personality, from the elegant alpha chicken to the eccentric with showier tastes. These chickens don't quite look ready to subjugate humanity, but they do look ready to rule.
You can see the entire series at Lippman's website.
Luxury Chicks [Peter Lippman via mashKULTURE]