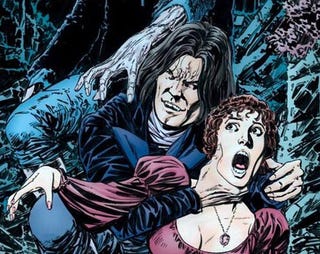 How better to count down the days to Hallowe'en than by giving you a showdown between a classic horror icon and hero of more recent vintage? What you need may be Angel Vs. Frankenstein. Click through for an exclusive preview.
From the mind (and pen) of John Byrne, this holiday-themed oneshot goes back to olden days when Angel was Angelus and evil, and Frankenstein's Monster was looking for revenge. Of course, things don't necessarily go as either of them had planned, as the title may suggest:

Angel Vs. Frankenstein is released this Wednesday.