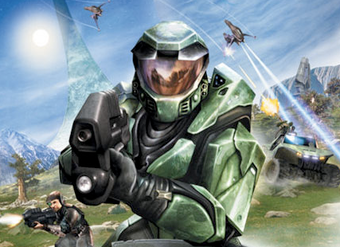 Peter Jackson and Neil Blomkamp's plans for a Halo movie fell apart (but yielded District 9), but that doesn't mean that Microsoft's uninterested in bringing the space marine franchise to the big screen.
Over the weekend, Variety reported that despite the fact that Jackson and Blomkamp's take on Master Chief fell apart, Microsoft is still looking to make a Halo feature film. Here's where the movie stands:
Microsoft retains the film rights to any future "Halo" movies, and is still eager to produce a film when a budget and plotline can be worked out. It's still developing scripts by Garland, Stuart Beattie, D.B. Weiss and Josh Olson as potential blueprints.

"We're still interested in making an excellent 'Halo' movie," [Halo franchise overseer Frank] O'Connor says. "We've created an awful lot of documentation and materials to support a feature film. We have a good idea of what kind of story we want to tell, but won't move on it until there's a great reason to do it. We're in no particular hurry."

Any film would likely serve as a standalone story and not be "a verbatim retelling of the game," O'Connor says — something screenwriter Weiss also has hinted at in interviews, saying, "If you did do a 100% faithful version, 999 times out of 1,000 it would be a mess."

Microsoft is also "intently watching" the TV landscape as a potential outlet for a "Halo" series
If you're wondering what the never-was Jackson/Blomkamp film could've looked like, here's Halo: Landfall, a Halo 3 promotional film that Blomkamp worked on in 2007:
Thanks for the heads up, John!