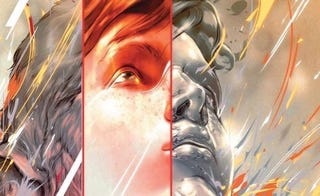 Neil Gaiman and Michael Reaves' Interworld has been optioned by Dreamworks Animation a decade after they first pitched it to Hollywood. The story of a boy who can travel between alternate universes is now in the lovely world of development. Although whether that's development hell or development utopia remains to be seen. Click through for the tortured history of Interworld.
After Hollywood passed on Interworld in 1996, Gaiman and Reaves decided to rework it as a novel. Alas, no one was interested in publishing it. However, they sent it out again in 2006, and it was purchased by HarperCollins and published last summer. And now the project has a new lease on life in Hollywood as well.
While Gaiman is probably best known for his comic book stint on The Sandman and his fantasy novels like Neverwhere, Reaves has written episodes of everything from Buck Rogers to Star Trek: The Next Generation to Sliders. Which comes in handy in Interworld, since the main character Joel finds out he can travel between alternate Earths. According to Gaiman it was,
An idea about a boy who finds himself in the middle of a war between two equally powerful forces, who joins a super-team consisting of versions of himself from different alternate realities to try and maintain the cosmic balance.
Some of them are governed by science and some by magic, which means that Gaiman's fantasy is balanced out by Reaves' technical gee-whizzery.
Oddly enough, Stephen King's alternate worlds novel The Talisman is being turned into a miniseries later this year by Dreamworks Television, which also involves a young boy who can "flip" between worlds, although the other places he goes are mired mostly in magic. One of the characters even states, "They have magic like we have science." We just hope that the slight similarities between the two stories don't force Dreamworks to shelve Interworld, because who wouldn't want to join their own superteam, made up of different versions of themselves?