This truly awesome video has the answers to that question. It imagines a trip down a desert highway at speeds approaching light, and then shows all the weird and wonderful optical effects the theory of special relativity says we'd experience.
This video is the work of Antony Searle and Craig Savage, physicists at the Australian National University, as part of their Seeing Relativity project. They used to supercomputers to simulate what the world would look like if the speed of light was slowed down to just a meter per second, at which point we'd see relativistic effects as part of our everyday life.
All the major relativistic effects are covered in the video. First, objects will become distorted, as things appear to move further and further away even as we approach them, and objects to the side become twisted out of their normal shape. Then the Doppler effect kicks in, morphing the colors around us so that nearby objects are blue and faraway ones are red. And that's still only the beginning of the full relativistic weirdness on display here.
There's a lot more to explore about all this at the project webpage. You can check this paper detailing how they created the simulation, and also download the complete, 17-minute video for your relativistic viewing pleasure.
Via NASA.
G/O Media may get a commission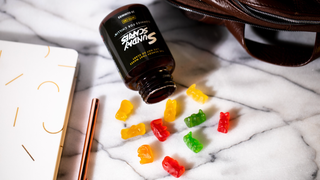 10mg CBD Gummies (22-Count)