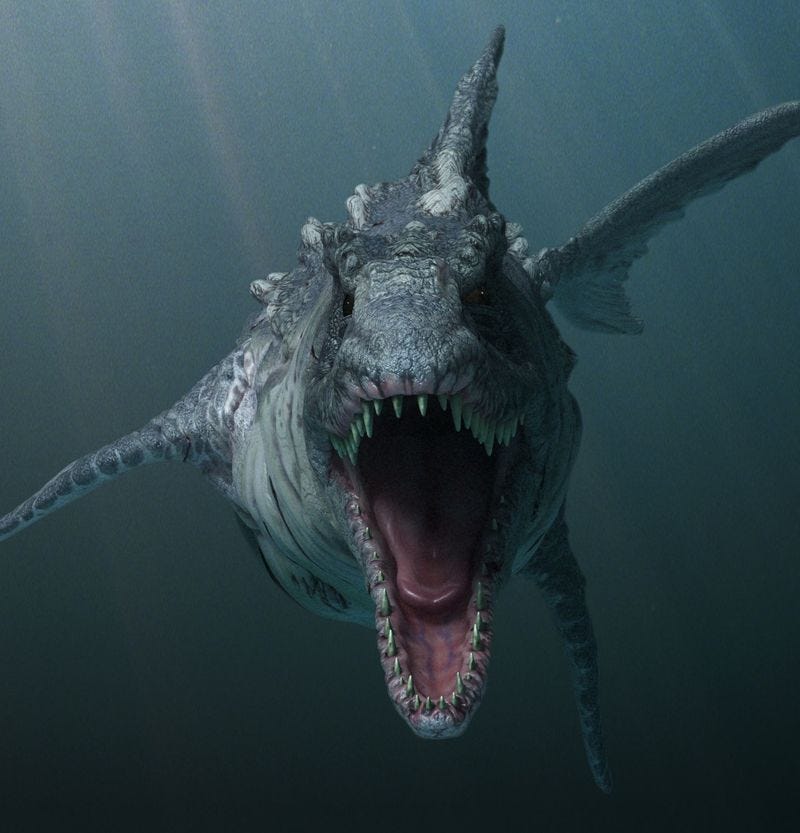 If you can't wait for schlockmeister Roger Corman's upcoming Sharktopus flick, then we've got good news. As an appetizer, he's bringing out Dinoshark (pictured) on Syfy on March 13. Now we've got the backstory on both shark epics.
THR has the full scoop from Corman himself. About Dinoshark, he says:
Global warming causes the glaciers to break apart. We start the picture with real beautiful shots of the glaciers falling into the ocean. The unborn egg of the Dinoshark that has been frozen for millions of years is released.
Shades of Godzilla. We are psyched.
But he's reserved his real imaginative powers to explain Sharktopus. THR writes:
"'Sharktopus!' is more difficult because you can imagine a prehistorical crocodile like the Dinocroc, but there's no such thing as prehistoric half-shark, half-octopus," Corman said. "I tried to figure out how to do this."

The solution? The U.S. Navy has commissioned a group called Blue Water to genetically engineer a half-shark, half-octopus to help combat Somali pirate ships. Then things go wrong.

"It's fairly difficult to believe, but we only ask the audience to accept this one thing," he said. "After that, we take great care that everything else is logical from then on and is something that could happen."
Corman has created a biopunk version of the megashark movie. Fucking genius.
My only remaining question is: Would Dinoshark kick Sharkopus' finny ass? Or vice versa?
via THR