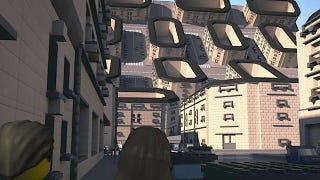 For a class project for Staffordshire University's Visual Effects and Concept Design degree program, students assembled a series of animated shorts that reimagined Hollywood blockbusters as LEGO worlds (à la the LEGO Star Wars series). These projects were assembled over a period of 12 weeks, and each represents approximately 1,000 hours of work. Behold the LEGO 300 franchise that would be completely unmarketable to children.

LEGO Inception by Pedrom Dadgostar, Hollie Price, Jack Milton, Simon Stirrup, Sam Serridge, Jack Bosworth, and Sidney Thibault.

LEGO 300 by Jason Brindley, Adam Cini, Lisa Fearns, Wesley Diggory, Dale Ditchburn, and Harwen Singh.

LEGO Men In Black by Ben Nixon, Dean Goodwin, Hannah Waring, Richard Hulme, Tom Simpson, Daniel Byrne, and Nathan Parish.
And as a bonus, here's the LEGO Matrix, a class project from 2010.