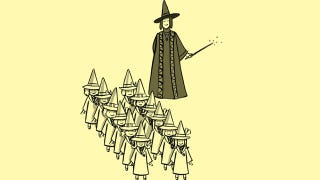 Ludwig Bemelmans' Madeline books (AKA, the books everyone's parents give to them when they have appendicitis) are a lovely glimpse inside an idyllic Catholic boarding school in Paris. But what if those little girls had magical powers? Artist Christina Wald blends the two worlds together perfectly in her short story of Maryline, and a Wizard School in Scotland. It's adorable.
To finish the story head over to Pop Smoothie!
Thank you for the tip YelloKat.