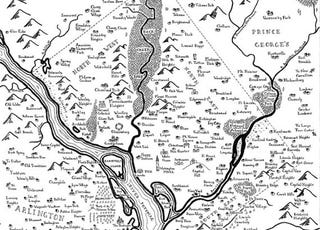 It's time to clear out the secret projects you've been working on in your labs, basements, studios, garages, and offices, and bring them out into the light! That's right — it's io9 show-and-tell time.
Tell us what projects you've been working on lately — whether you're working on understanding the inner workings of a particularly tricky neurotransmitter, building a DIY rocket, half-way through a set of drawings of every known nebula done in the style of Pixar, or something else entirely. Make sure you tell us a little about the process how you put together the project. But the telling is only half; we want to see pictures of all your amazing projects, too!
Image: A modern city map of Washington, DC, drawn in the style of JRR Tolkien, submitted by commenter Stentor Danielson in our last round of show and tell.