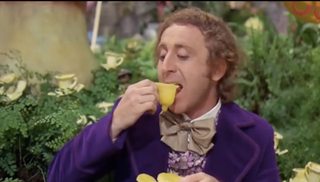 Fictional characters undertake some truly heroic tasks — they fight evil, solve mysteries, go on incredible journeys — and the food they eat while doing so is often just as ambitious. Today we want to know about the fictional foods you're dying to taste-test.
Maybe you want to try a fictional food with a mix of flavors that you just can't quite imagine. Maybe you want to tell us about a time you actually attempted to re-create a fictional meal (with results either delicious or inedible). Or maybe you can't try your favorite fictional meal because the food it's made up of doesn't exist outside of the pages.
Tell us in the comments what your pick would be (pictures too, please!) and why you want to try it.