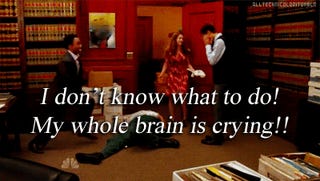 Can it be? Could it be? Have the TV gods heard our prayers? Will Dan Harmon return to Commuity? WE ARE FREAKING OUT.
After booting beloved showrunner Dan Harmon to the curb after Community's third season, it sounds like NBC is having second thoughts. According to HollyWookiee.com, who was present at a recent taping for his podcast Harmontown, Sony Pictures Television wants Harmon back. And he's considering it. The podcast is not yet released and apparently Harmon asked to edit that segment out before it airs.
However, THR has confirmed the report with Sony Pictures Television, and yes, negotiations are taking place, although they have "nothing official to report." I can't even imagine what sort of bargaining chip the show's content's decline has given Harmon. We can't imagine he will return unless he's given complete control, and there has to be a river of bad blood between the studio and Harmon. Then again, watching your TV baby flounder around trying to mimic another writer's genius has got to be hard, too. [EDITOR NOTE: However I really loved the Freaky Friday episode.]
And just when we were about to write this show off forever. Come on back, Harmon! We missed you so much!