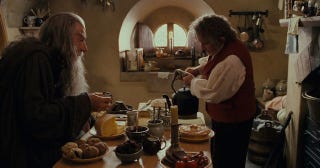 Watching Twin Peaks goes perfectly with a slice of cherry pie and a damn fine cup of coffee; The Lion, the Witch, and The Wardrobe calls for Turkish Delight (seasoned with just a hint of betrayal); and Harry Potter is best enjoyed along with a slice of treacle tart. What are some of your favorite food and fiction pairings?
Over at NPR's The Salt, in preparation for tomorrow's release of The Hobbit 2, they've put together a seven-course Tolkien-themed menu to watch along with a Lord of the Rings marathon. (Will there be Elevenses? Oh, yes. Along with first breakfast, second breakfast, and, well, you get the idea...) The menu features everything from a recipe for Balin's spiced beef, to a spin on lembas, to suggestions on just what drinks might pair nicely with the feast ("ales, since lagers are not found on Middle-earth").
So what snacks (or epic seven-course dinners, if your tastes and skills run that way) do you like to eat along with your favorite movies and books? Give us some perfect food and fiction pairings in the comments now.