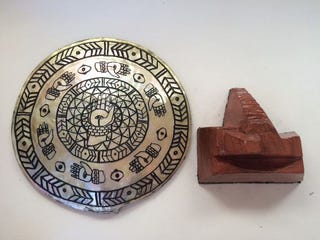 To the front of the class, please, commenters! It's io9 show-and-tell time.
Dust off the great side and central projects that you've been working on lately (or that you just finished) and let the rest of us take a look. Have you been setting up a rooftop farm? Illustrating the great American robot novel? Making an entirely edible model of Jupiter? Tell us how you did it, and be sure to include plenty of photos suitable for impressing all your digital friends.
Image: Shell carving, gold lip oyster shell hand carved with a squid ink stain and a river clay base, as shared by commenter Dustign in our last round of show and tell.