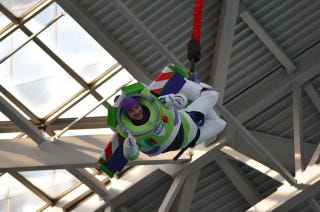 It's that time of year again. The leaves have begun to turn, the air has gone crisp, and one question is being bandied about across the nation: Who amongst us can pull off the Miley Cyrus teddy bear onesie? (Spoiler: No one can.) It's time for io9's annual Halloween Costume Show!
You may recall the fun of io9's previous Halloween Costume Shows with standouts ranging from a bungee-jumping Buzz Lightyear (as pictured above) to a perfectly-turned retro future robot. We can't wait to see what you've all got up (and on!) your sleeves this year.
So start posting pictures of your Halloween costume (pictures of yourself only, please!) along with a quick note about who you are in the comments below. Haven't had a chance to don your costume quite yet? Don't worry. We'll be doing this every week through Halloween.
Let the costume show begin!