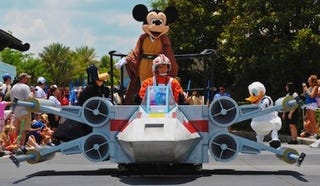 Shortly after the "Disney buys Lucasfilm" announcement, Disney execs hashed out the details on an investor conference call, and explained just what this massive acquisition means for you and me. Here's the run down of what we learned:
In 2015, Disney hopes to release Star Wars: Episode VII with plans to release Episode VIII and EpisodeIX in the following years. Expect a new Star Wars film every to to three years.
Along with Lucasfilm, Disney has purchased an extensive treatment for the brand NEW Star Wars trilogy. Episode VII is in "early development" but we're guessing the groundwork is already being planned.
George Lucas is a consultant on Episode VII but his intent is to retire.
Disney plans on utilizing Star Wars in parks, resorts, television and film. But we're not expecting a live action TV show just yet. We're betting another Star Wars cartoon could be appearing on DisneyXD.
What about Indiana Jones? Well, Dr. Jones is still a part of the overall purchase package - but Paramount still owns the distribution rights to the films. So don't hold your breath for a Disney Indy movie just yet.
Overall, the bulk of this call was about Star Wars - in a nutshell, Disney execs wanted Luke, Han and the whole Universe so they could branch it out as they saw fit. And with Lucas eyeing retirement, there's no limit as to what this franchise could become.
Photo via Scott Thomas