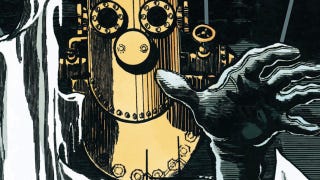 This week's comic haul bring us the return of one of DC's great Milestone comics, a pre-steampunk fable from French comics maestro Jacques Tardi, and oodles more for you, oh intrepid reader.
First Issues
First off, John Rozum and Frazier Irving bring back Xombi (DC) — be sure to read our recent interview with Rozum about this surreal nanite horror tale. Marvel continues its CrossGen relaunch with Mark Waid's supernatural Victorian detective series Ruse, and Atomic Robo's Brian Clevinger also scripts the Iceman And Angel One Shot, a retro yarn that guest stars the classic Marvel monster Goom.
As for one-and-done comics, Dark Horse's publishing Felicia Day's The Guild: Tink One Shot, Marvel's releasing the more sociopathic Captain America And Crossbones One Shot, The Chew Script Book is out for fans of Image's cibopathic crime series, and Ed Brubaker pens Fear Itself: Book Of The Skull, an intro to Marvel's big summer event.
Other Releases
Marvel has a duo of jumping-on issues from their .1 line: Hulk 30.1 (for novice Hulkamaniacs) and Uncanny X-Force 5.1 (for fans of mutants getting grindhouse). There's also new issue of Unwritten (we'll be speaking with Mike Carey soon about Tommy Taylor, keep your lids peeled), and a new issue of Tony Lee's Matt Smithcentric Doctor Who (check out our preview of the book here).
Other anthologies of interest may include the final issue of DC Universe Legacies, new Knight and Squire from Paul Cornell, Morning Glories from Nick Spencer, and Doctor Octopus and Tony Stark squaring off in Matt Fraction's Invincible Iron Man.
Graphic Novels
One particularly noteworthy graphic novel this week is Fantagraphics' reprint of Adèle Blanc-Sec cartoonist Jacques Tardi's 1972 "icepunk" graphic novel, The Arctic Marauder. Equal parts retro parody and actual adventure tale, this science fiction yarn evokes Georges Méliès and Jules Verne. You can read a preview here.
2000 AD fans can look forward to Judge Dredd: Complete Case Files Volume 17, and the first trade paperback collection of Chris Roberson and Michael Allred's pop arty suburban undead series iZombie is collected — this comic has an enjoyable Being Human meets X-Statix vibe.
Also, Kenny Powers Danny McBride himself lends his writing talents to Dark Horse's comic adaptation of Your Highness, which looks like The Princess Bride with F-bombs, and Prison Pit's Johnny Ryan whips up all-new cartoon misanthropes in his New Character Parade.
As usual, here's the list of everything being released to comic stores tomorrow, and you can find your nearest comic retailer here. Happy reading, gang!