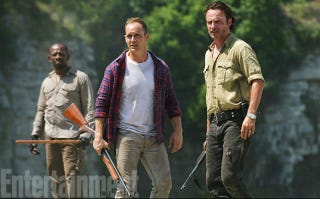 One of the big takeaways when the first trailer for The Walking Dead season six was released was a role for Ethan Embry. You know him. The '90s darling who starred in Empire Records, Can't Hardly Wait and more? Well, we now know who he's playing, as well as two other new characters.
Embry is a character named Carter, who is unique to the show and not from the comics. However, he is inspired by the comics. "Ethan plays a combo of a few characters that we actually haven't hit yet or weren't able to hit in other characters," showrunner Scott Gimble told Entertainment Weekly. "He is an Alexandrian, and has been there the whole time, just quite busy."
As a reminder, Alexandria is the seemingly perfect town Rick and his crew arrived at last season, and systematically turned on its head.
Also new this season is Dr. Denise Cloyd, a character from the comic who'll be played by Nurse Jackie Emmy-winner Merritt Wever. "Denise's role as a medic becomes critical in the community of Alexandria after the death of Pete, and in the comic her skills as a surgeon prove pivotal, especially after a ghastly injury incurred by one of the main characters—an injury which may or may not happen on the TV version," says EW.
Finally, actor Corey Hawkins joins the cast as Heath, another Alexandrian who mostly runs supplies. "[Corey's] terrific and I'm so excited to see him bring Heath to life," said Gimble." It's been fun and he dove in with both feet. He's tough and skeptical when the cameras are rolling, and then when they're off he's just like a goofy fan. He's really, really excited to be there."
And we're very excited to see what these new characters have in store for the main cast. Here's that trailer one more time.