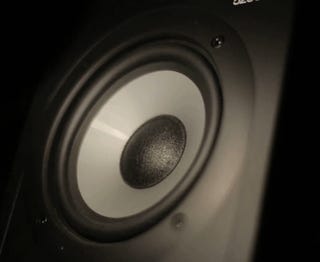 No, really. We can't look away.
The animation above was taken from the video featured below, which appears to shows speaker cone undulating in hypnotizing slow-mo. It was created by photographer drummaboy5189, by playing a 61Hz tone through the speaker and filming it at 60 frames per second and 1/4000s shutter speed on his DSLR. The slight off-set between the speaker's motion and the camera's framerate gives rise to a mesmerizing rolling shutter effect.
We've seen a similar effect achieved with water – but the slow-motion illusion seen here is just delightfully weird and otherworldly.
[drummaboy5189 via PetaPixel]