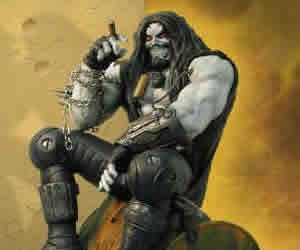 Jeffrey Dean Morgan, fresh from starring in Watchmen and currently shooting the movie version of The Losers, wants to stay with comic books for his next project. He's hoping to play DC's intergalactic bounty hunter Lobo in Guy Ritchie's adaptation.
Morgan told reporters that he'd be interested in taking on the role of the grizzled alien with a fondness for dolphins, currently being developed as a movie by The Losers producers Joel Silver and Akiva Goldsman:
Lobo would be very cool. I don't think that I'm as big as Lobo is, but if you could, like, transplant Mickey Rourke's body onto my head, that would be just great... I do have an in. I'll be elbowing somebody soon.
While we're concerned by the visual of Mickey Rourke's body transplanted onto Morgan's head, we have to admit, he could probably pull it off...
Watchmen's 'Comedian' eyes another comic antihero: Lobo [SciFi Wire]