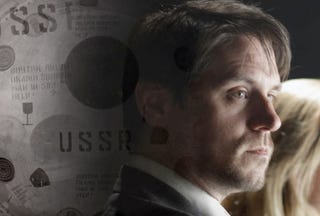 Here's the first episode of Pioneer One, a neat webseries that was entirely crowdfunded. The pilot is about a mysterious downed spacecraft over Montana and Edmonton, deadly radiation, and a Cold War secret.
Here's the opening — here are parts 2, 3, and 4.
This series was written by Josh Bernhard, directed by Bracey Smith, and distributed by VODO. Pioneer One has a strong X-Files vibe, but is more grounded in reality — no monster of the week here, folks. Here's the official description of Pioneer One:
An object in the sky spreads radiation over North America. Fearing terrorism, U.S. Homeland Security agents are dispatched to investigate and contain the damage. What they discover will have implications for the entire world.
You can learn more about the program at its main page. Also, here's the show's funding page, which also has episodes available for download from VODO. They've reached ~$27,000 of their $30,000 goal and will begin filming again in September.
Thanks for the tip, Keith!